Regular price
Rs. 690.00
Sale price
Rs. 580.00
Unit price
per
Sale
Sold out
70G SHAMPOO BAR
Nature's power is now at your fingertips with this Willow Bark & Sliver Colloidal Extract Shampoo Bar. Enjoy natural exfoliation, nourishment, and a perfect lather for your hair - all in one bar. Feel the calming difference. Switch to a Shampoo Bar now! 
Ingredients

Sodium Cocoyl Isethionate, Sodium Lauryl Sulfoacetate, Caprylyl Capryl Glucoside, Cocamidopropyl Betaine, Olive Oil PEG-7 Esters, Sodium PEG-7 Olive Oil Carboxylate, Erylite, Sodium Lactate, Behentrimonium Methosulfate, Cetearyl Alcohol, Stearic Acid, Polyquaternium-10, Garcinia Indica Seed Butter, Silver Colloidal Extract, Willow Bark Extract, Dandelix Pro, Keranutri, Panthenol, Glycerin, Polyquaternium-10, Fragrance (Phthalate Free), Phenoxyethanol (and) Ethylhexyl.
Benefits

• Supports a healthier scalp, potentially reducing dandruff and promoting hair growth.
• Helps gently remove dead skin cells, making your scalp feel refreshed and renewed.
• Moisturizes your hair, leaving it feeling soft and smoother to the touch.
• Enhances your hair's texture and makes it easier to manage.
• Reinforces the strength of your hair, which might lead to less breakage.
• Provides essential nutrients that your hair needs to stay healthy.
• Adds a beautiful shine to your hair, making it look lustrous and vibrant.
• Leaves your hair feeling velvety smooth and easy to style.
• Assists in reducing dandruff, giving you relief from flaky scalp concerns.
• Acts as a natural antimicrobial, helping maintain a cleaner scalp environment.
• Vitamin E, present in the bar, supports your scalp and hair health by acting as a natural antioxidant.
• The gentle coconut-derived surfactant improves skin hydration, preventing dryness and irritation.
• The gentle coconut-derived surfactant improves skin hydration, preventing dryness and irritation.
How to use

• Wet your hair thoroughly with warm water.
• Moisten the bar and then rub it directly through your hair from scalp to ends, working up a thick lather with the pads of your fingers (do not use your fingernails).
• Rinse thoroughly with warm water until all of the shampoo is removed.
• Use 2-3 times a week.

Individual experiences with haircare products vary, so patch testing on a small area of scalp is essential to avoid adverse reactions. For personalized recommendations, consult a dermatologist, especially if you have specific skin concerns or conditions.
Shipping

All orders placed will be dispatched within 2-3 business days.
Orders placed after 11AM IST on Fridays, will be processed the following Monday.
Business days are Monday-Friday, excluding scheduled closures.
We do not ship orders on Saturdays or Sundays.
Please allow for a + 2 days or - 2 days variation from the delivery period mentioned in case of unforeseen circumstances
Standard shipping parcels is via Surface Mode 

 

WE HAVE A STRICT NO RETURN POLICY.

IN CASE OF ANY DAMAGE ON RECIEVING GOODS, CONTACT US ON +91 9003030583. PLEASE MAKE SURE TO TAKE PHOTO AND VIDEO PROOF OF UNPACKING. 

 
Return policy

WE HAVE A STRICT NO EXCHANGE NO REFUND POLICY.
View full details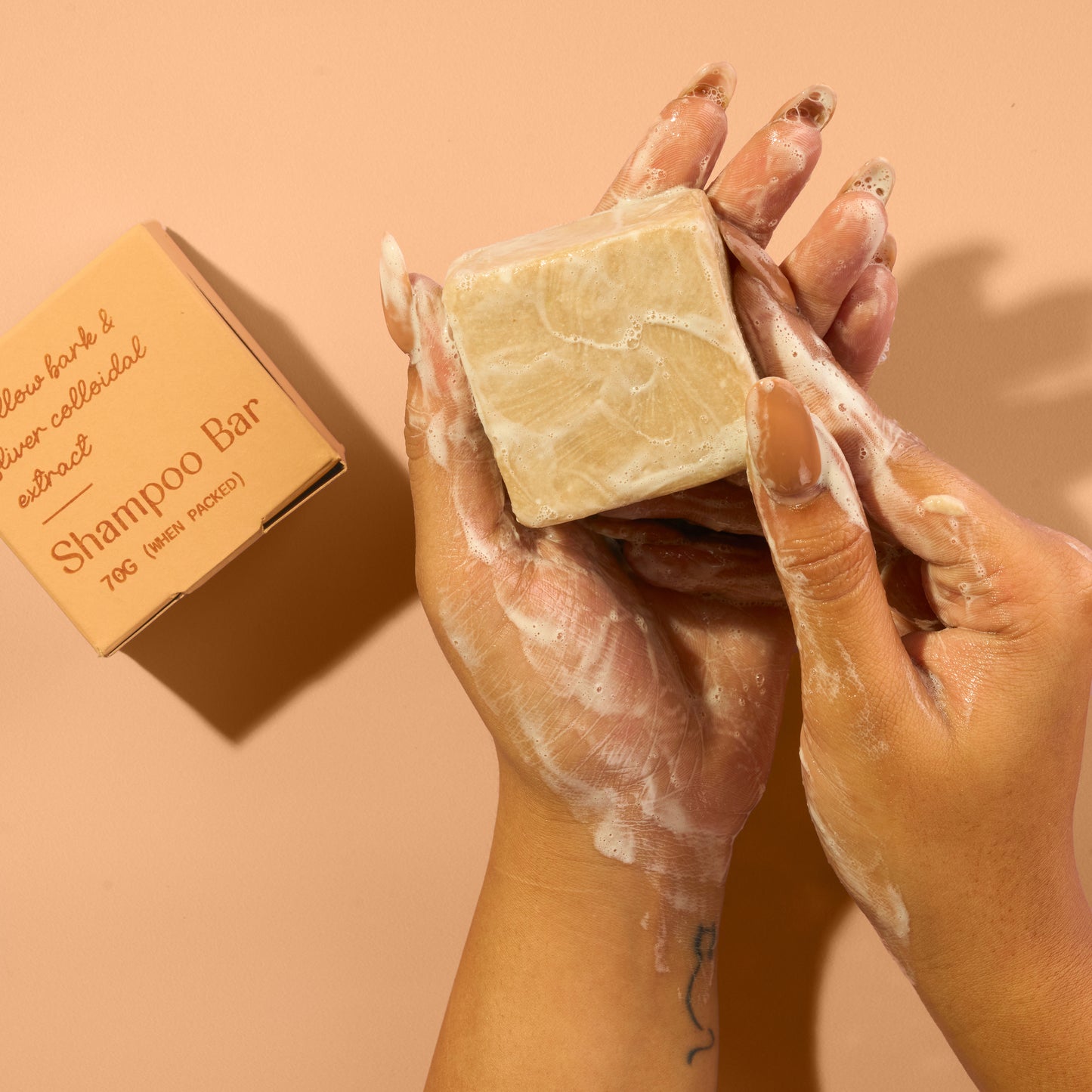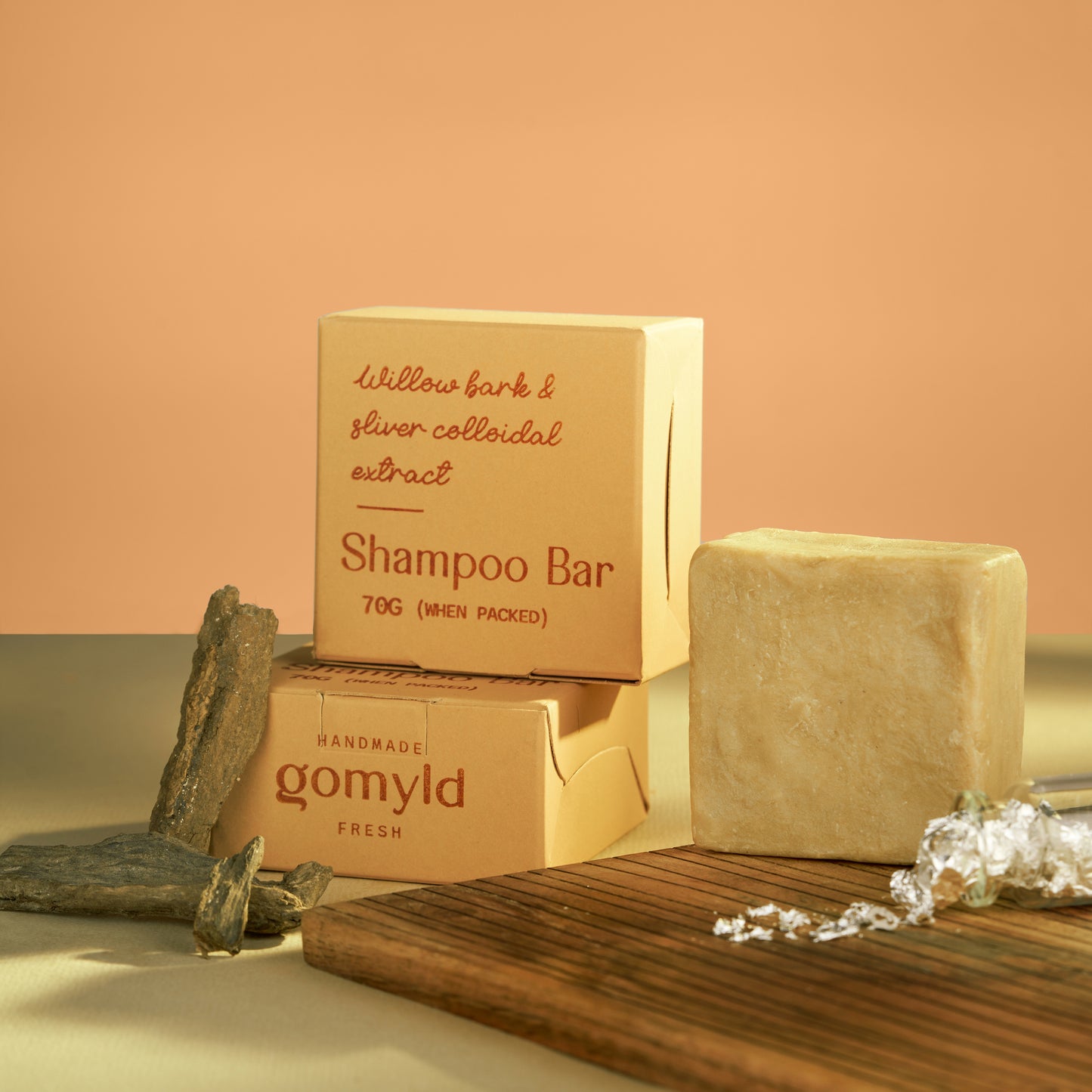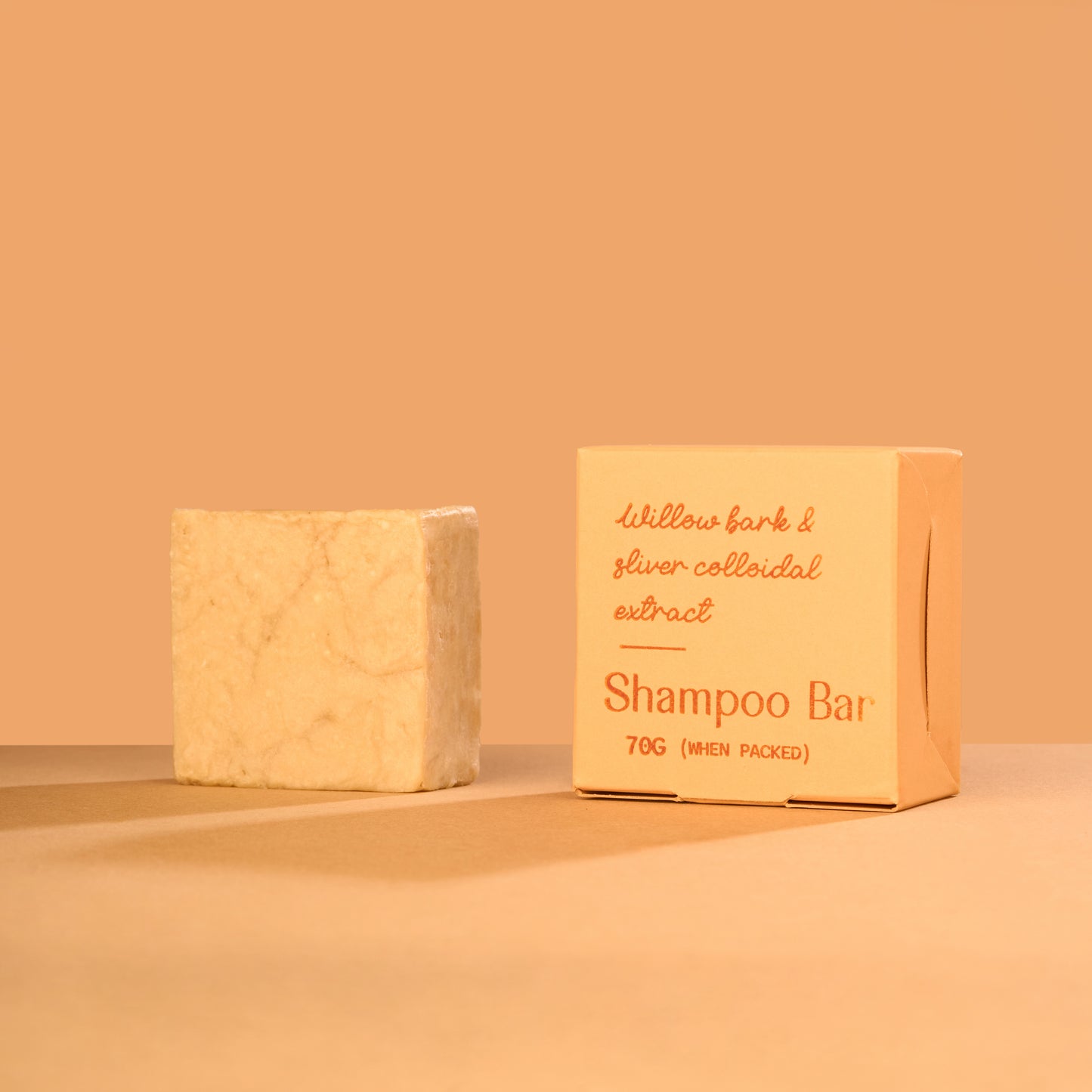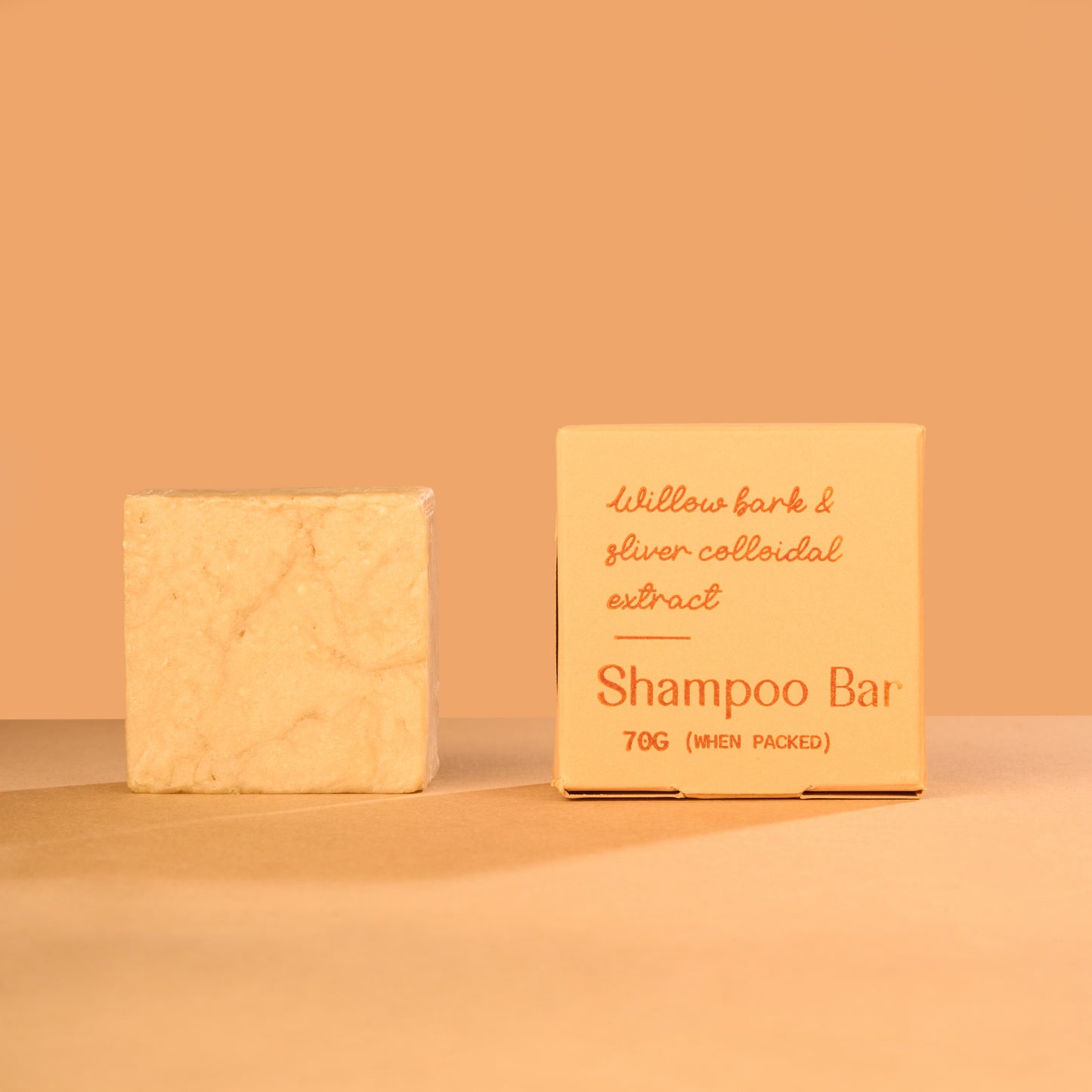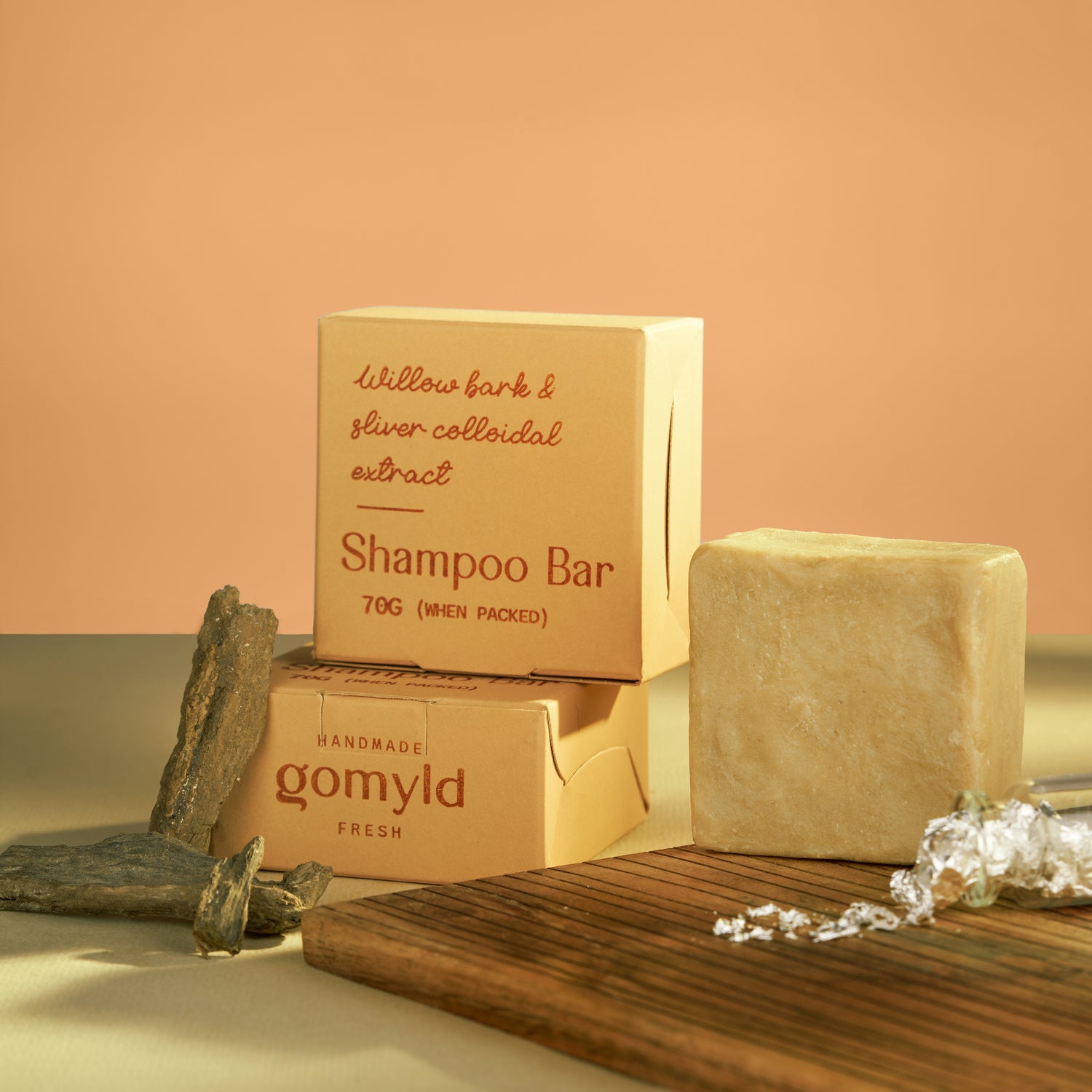 Nature's Harmony for your hair
Discover the soothing sanctuary of our Willow Bark & Silver Colloidal Extract Shampoo Bar, a nature-inspired spa for your hair. With Willow Bark and Silver Colloidal Extract at its heart, along with the calming touch of Kumkum butter and the revitalizing charm of Keraturi, this bar creates a serene blend that gently exfoliates, nourishes, and strengthens. As you enjoy the rich lather, worries wash away, leaving a refreshed scalp, added moisture, and a peaceful feeling of rejuvenation.
Why our Shampoo Bar is Vital for your skin
Controls Dandruff & Itchiness

Hydrates scalp and retains moisture

Promotes healthy scalp environment

Enhances manageability & styling
GOOD THINGS TAKE TIME, SO DOES GOOD SKIN
All our products are formulated at home and made by hand. We refrain from using chemicals that provide fast and temporary results. Our products are Myld and Effective over time.