Regular price
Rs. 900.00
Sale price
Rs. 745.00
Unit price
per
Sale
Sold out
Recommended for All Skin Types
30ML VITAMIN C 10% SERUM WITH KAKDU PLUM
Vitamin C 10% Serum is the perfect skincare must-have for all skin types. Its exotic blend of Kakadu Plum nourishes, brightens, and anti-ages your skin. Get amazing results from this crowd favorite serum.

Ingredients

Ingredients: Aqua, Propanediol, Ethyl Ascorbic Acid, Phenoxyethanol And Triethylene Glycol, Sodium Citrate, Trisodium Ethylenediamine Disuccinate, Sodium Metabisulfite, Glycoproteins, Sodium Hyaluronate, Glycoin, Kakadu Plum Active, Natural Betaine, Glutamic Acid, Valine, Threonine, Glycine Soja (Soybean) Protein, Glycine, Valine
Benefits

• This serum gives your skin a natural radiance, making it look vibrant and healthy.
• It helps in controlling hyperpigmentation, reducing the visibility of uneven skin tone.
• It aids in correcting sun damage and reducing the appearance of sunspots, promoting a more even complexion.
• This serum provides a protective shield against harmful free radicals, helping to maintain the health of your skin.
• It is highly Antimicrobial and Anti-Inflammatory, helps in reducing acne-causing bacteria
• Regular use of this serum can contribute to a more youthful appearance, thanks to its skin-nourishing properties.
• The serum's formulation allows it to penetrate deeply into your skin, ensuring maximum effectiveness.
• This serum also plays a role in improving the presence of healthy skin microbes.
• This serum acts as a hydration reservoir, helping your skin stay moisturized and supple.
• The serum provides complete amino acid support, which is essential for maintaining the integrity of your skin's structure.
• This serum does not contain any fragrances or essential oils; it is a pure Vitamin C blend
How to use

• Wash your face with soap or face wash.
• Pat dry with a towel.
• Fill the dropper with the product.
• Pour 3-4 drops on your face.
• Massage lightly in circles until absorbed in the skin.
• Make sure to follow up with SPF in the day and moisturizer at night.

Please Note: Individual experiences with skincare products vary, so patch testing on a small area of skin is essential to avoid adverse reactions. For personalized recommendations, consult a dermatologist, especially if you have specific skin concerns or conditions.
Shipping

All orders placed will be dispatched within 2-3 business days.
Orders placed after 11AM IST on Fridays, will be processed the following Monday.
Business days are Monday-Friday, excluding scheduled closures.
We do not ship orders on Saturdays or Sundays.
Please allow for a + 2 days or - 2 days variation from the delivery period mentioned in case of unforeseen circumstances
Standard shipping parcels is via Surface Mode 

 

WE HAVE A STRICT NO RETURN POLICY.

IN CASE OF ANY DAMAGE ON RECIEVING GOODS, CONTACT US ON +91 9003030583. PLEASE MAKE SURE TO TAKE PHOTO AND VIDEO PROOF OF UNPACKING. 

 
Return policy

WE HAVE A STRICT NO EXCHANGE NO REFUND POLICY.
View full details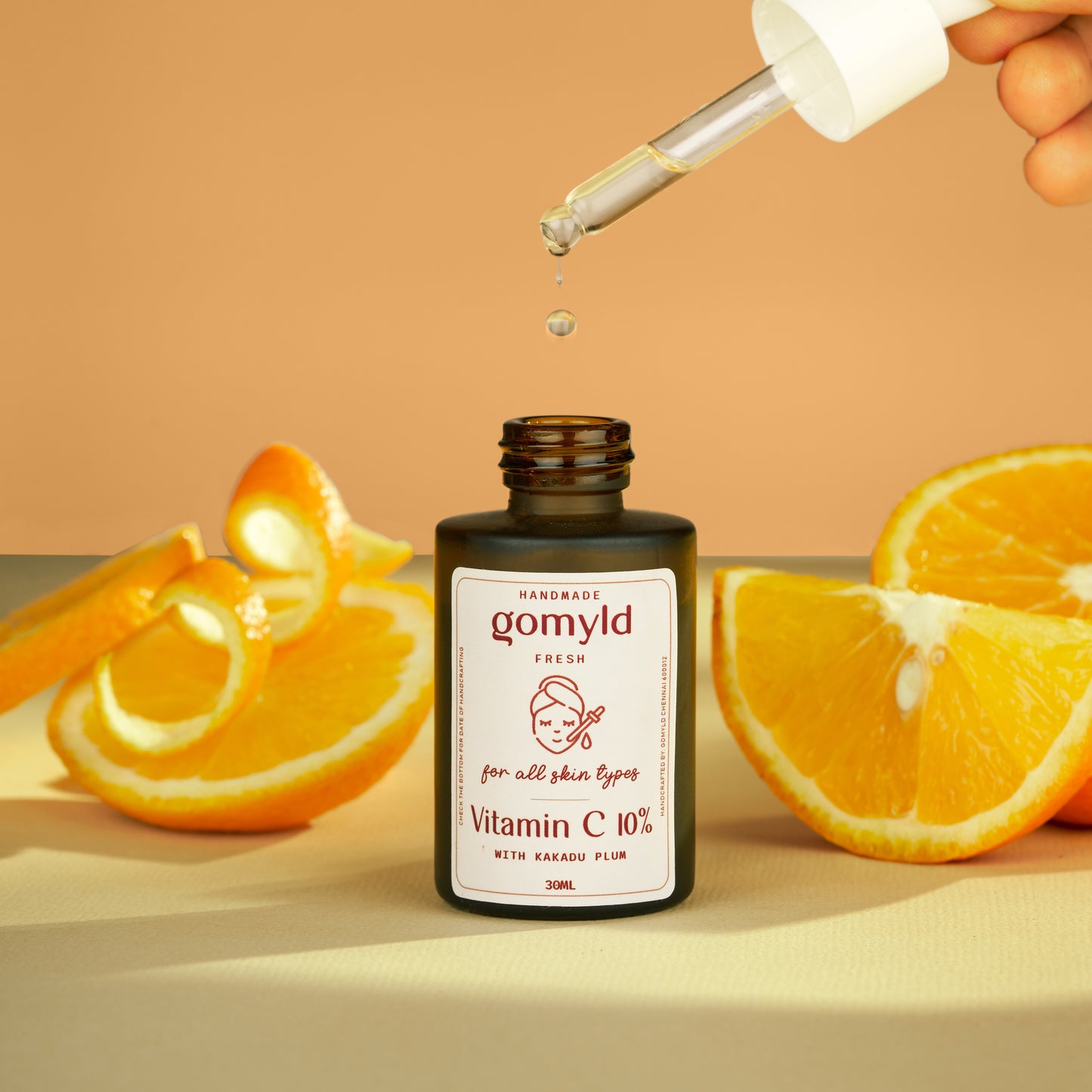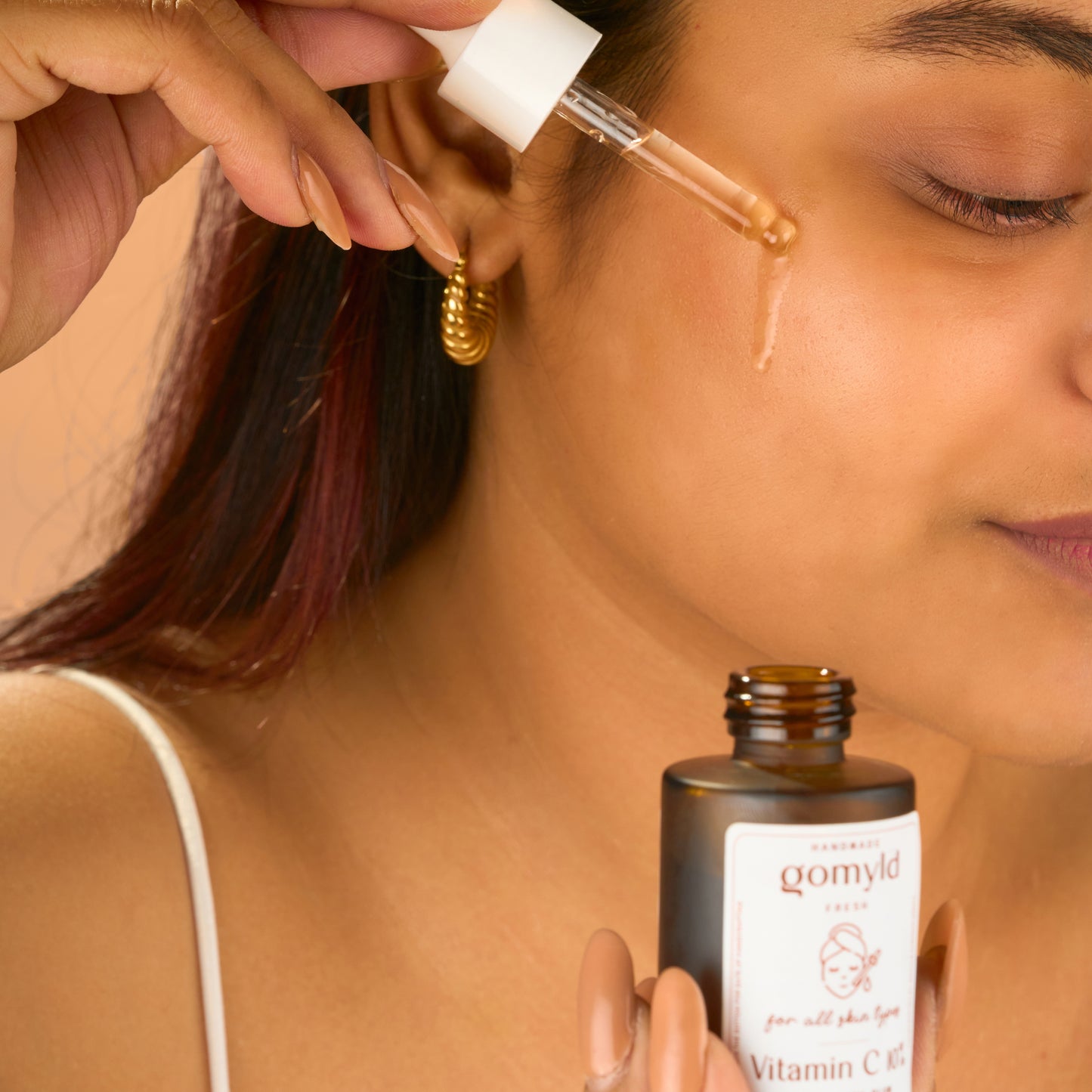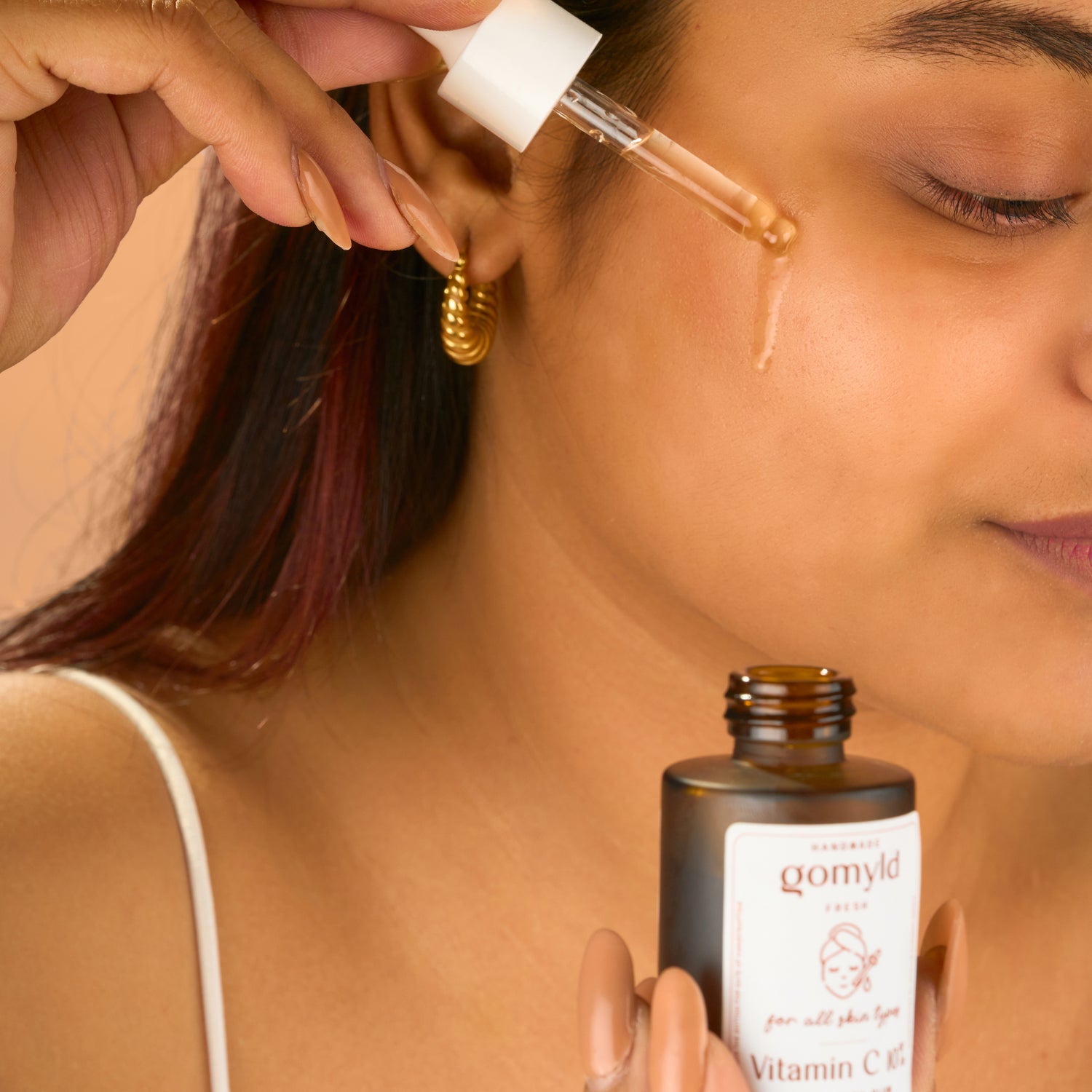 Vitamin C Bliss with Kakadu Plum Magic
Vitamin C, in the form of Ethyl Ascorbic Acid, teams up to brighten your skin's day. It's like a burst of sunshine, fading dark spots and helping your skin stay plump and youthful. Kakadu Plum Active, straight from Australia, adds its Vitamin C charm, keeping your skin safe from the troubles of the world. And let's not forget Sodium Hyaluronate – a moisture magnet that keeps your skin happily hydrated. Together, they create a skincare tale that leaves your skin smiling and refreshed, every single day.
Why our Vitamin C Serum is Vital for your skin
Brightens and revitalizes the skin

Evens out skin texture & color

Hydrates, nourishes, and enhances skin

Reduces fine lines and wrinkles over time
GOOD THINGS TAKE TIME, SO DOES GOOD SKIN
All our products are formulated at home and made by hand. We refrain from using chemicals that provide fast and temporary results. Our products are Myld and Effective over time.