Regular price
Rs. 550.00
Sale price
Rs. 440.00
Unit price
per
Sale
Sold out
Recommended for All Skin Types
10ML UNER EYE SERUM WITH PEPTIDES AND CAFFINE
This Under Eye Serum is specially formulated formulated with caffeine and bio-retinol. It comes in a convenient roll on applicator bottle, allowing for a hassle-free, mess-free application. Pamper your delicate under eye area with this calming, nourishing serum for a refreshed, rejuvenated look.

Ingredients

Aqua, Polyglutamic Acid, Glyceryl Glucoside, Aqua, Plam Dates Extract, Bellis Perennis (Daisy) Flower Extract, Hieracium Pilosella (Hawkweed) Extract, Propanediol & Glycerin & Jasminum Sambac (Jasmine) Flower Extract & Crataegus Monogyna Flower Extract, Dimethyl Isosorbide, Caffeine Active, Bio Retinol, Natural Betain, Propanediol, Ploysorbate 80, Ubiquinone, Alpha Glucosyl Hesperidin, Acetyl Hexapeptide-8
Phenoxyethanol, Ethylhexylglycerin
Benefits

• This Serum provides antioxidants for skin protection, safeguarding against environmental stressors.
• It hydrates and enhances skin elasticity, leaving your skin supple and nourished.
• This Serum maintains skin moisture with its humectant properties, keeping your under-eye area plump and hydrated.
• It reduces dry lines and eye wrinkles, making your skin smoother and more youthful.
• This Serum helps reduce puffiness, crow's feet, and eye bags, giving your eyes a rested and refreshed look.
• It targets dark circles and under-eye pigmentation, promoting a brighter and more even skin tone.
• This Serum has soothing, anti-inflammatory properties that calm and comfort the under-eye area.
• It firms skin, minimizes fine lines and wrinkles, providing a more youthful appearance.
• This Serum supports skin repair, aiding in firmness and reducing the visibility of fine lines..
• It also provides a gentle lifting effect, contributing to firmer and more revitalized skin.
• This Serum helps with sleepy eyes and different eye spacing, enhancing overall eye symmetry.
• The natural fragrance of our Under Eye Serum is a subtle blend of enchanting botanical extracts like Palm Dates, Daisy, Jasmine, and Crataegus Monogyna. These delicate scents create a soothing experience that enhances your skincare ritual, adding an extra layer of pleasure to your routine and leaving you feeling rejuvenated.
How to use

• Gently slide the roll on around your eyes.
• Massage under and over the eyes with your finger tips (applying the least amount of pressure) until it is absorbed.
• Use twice a day. AM & PM.
• Use thrice a week.

Individual experiences with skincare products vary, so patch testing on a small area of skin is essential to avoid adverse reactions. For personalized recommendations, consult a dermatologist, especially if you have specific skin concerns or conditions.
Shipping

All orders placed will be dispatched within 2-3 business days.
Orders placed after 11AM IST on Fridays, will be processed the following Monday.
Business days are Monday-Friday, excluding scheduled closures.
We do not ship orders on Saturdays or Sundays.
Please allow for a + 2 days or - 2 days variation from the delivery period mentioned in case of unforeseen circumstances
Standard shipping parcels is via Surface Mode 

 

WE HAVE A STRICT NO RETURN POLICY.

IN CASE OF ANY DAMAGE ON RECIEVING GOODS, CONTACT US ON +91 9003030583. PLEASE MAKE SURE TO TAKE PHOTO AND VIDEO PROOF OF UNPACKING. 

 
Return policy

WE HAVE A STRICT NO EXCHANGE NO REFUND POLICY.
View full details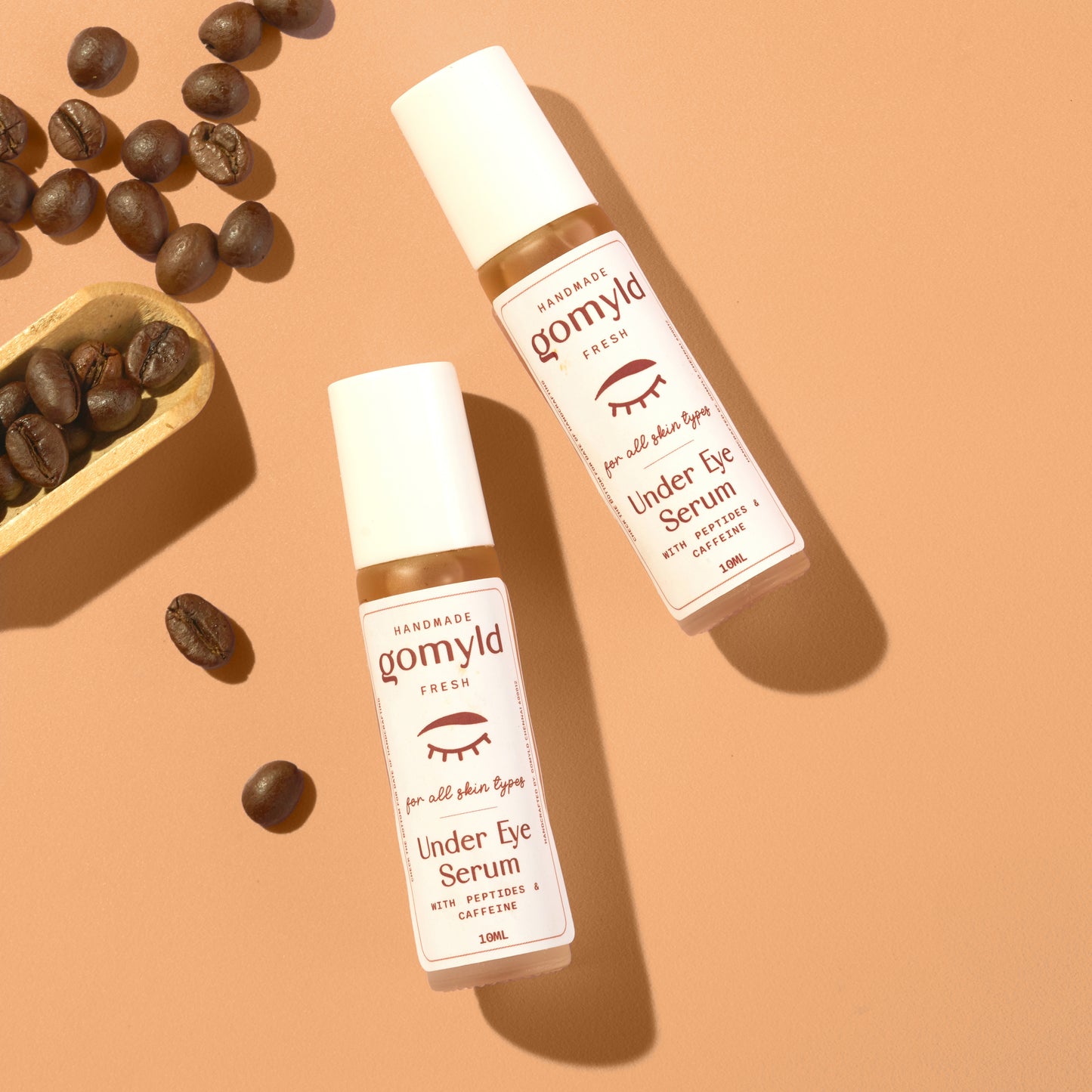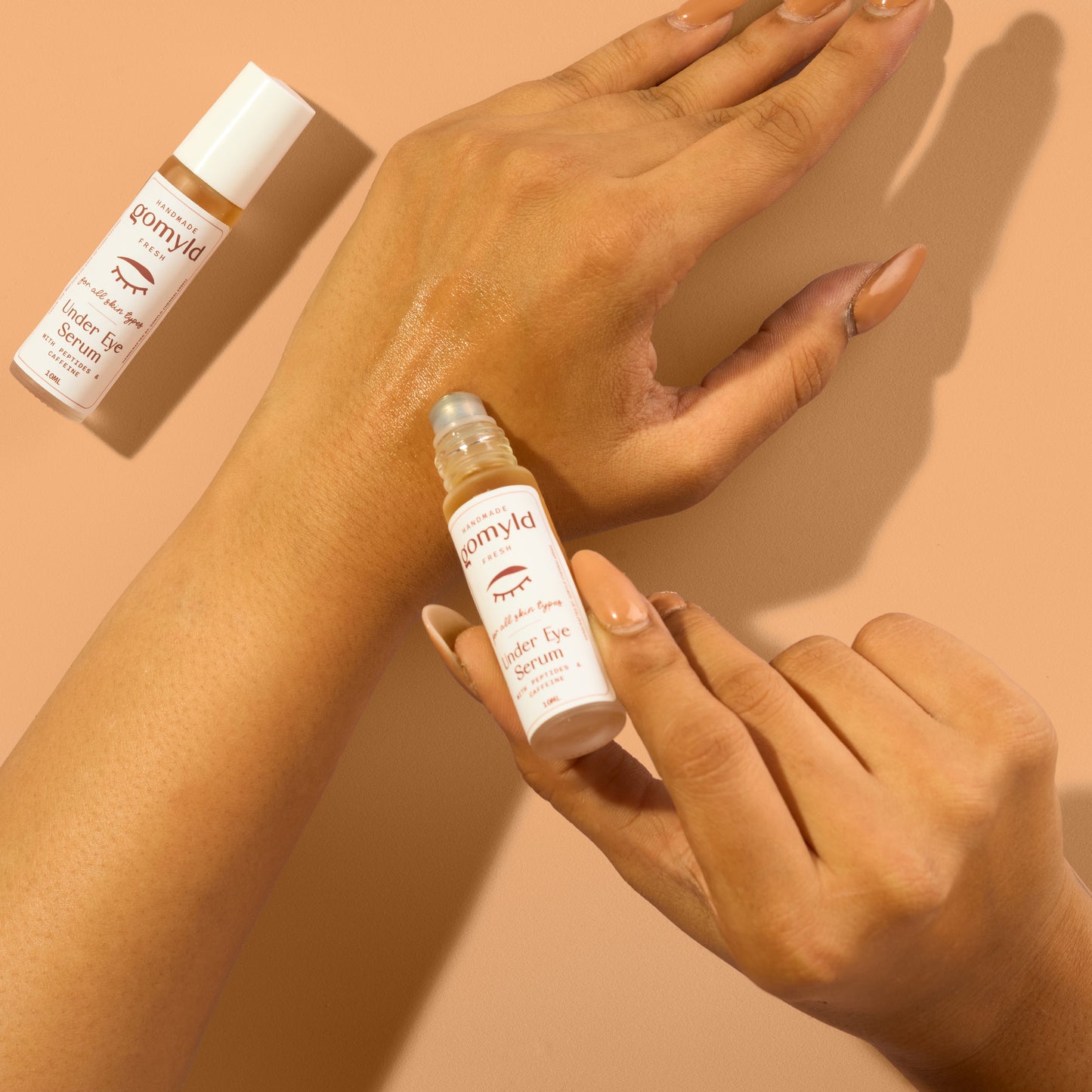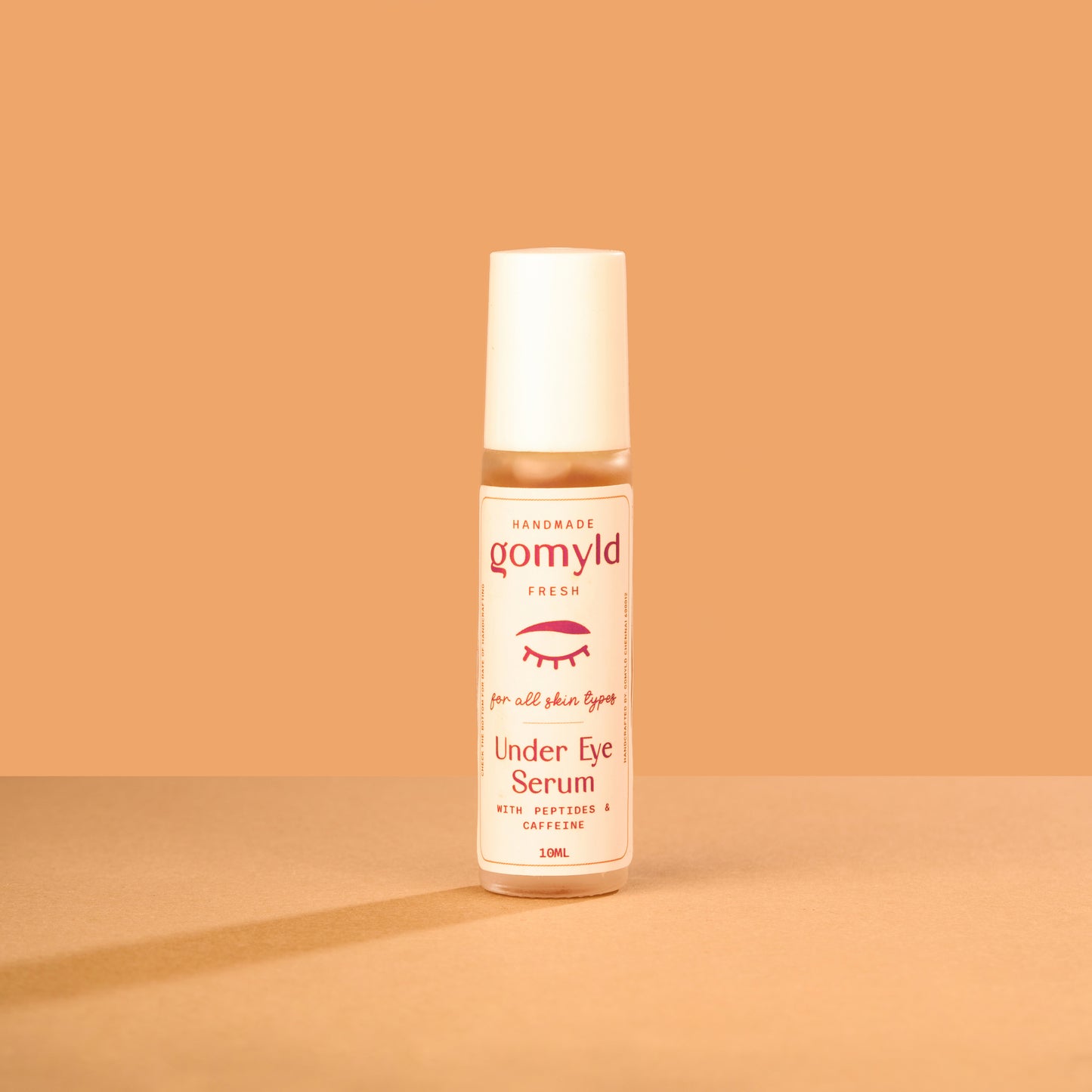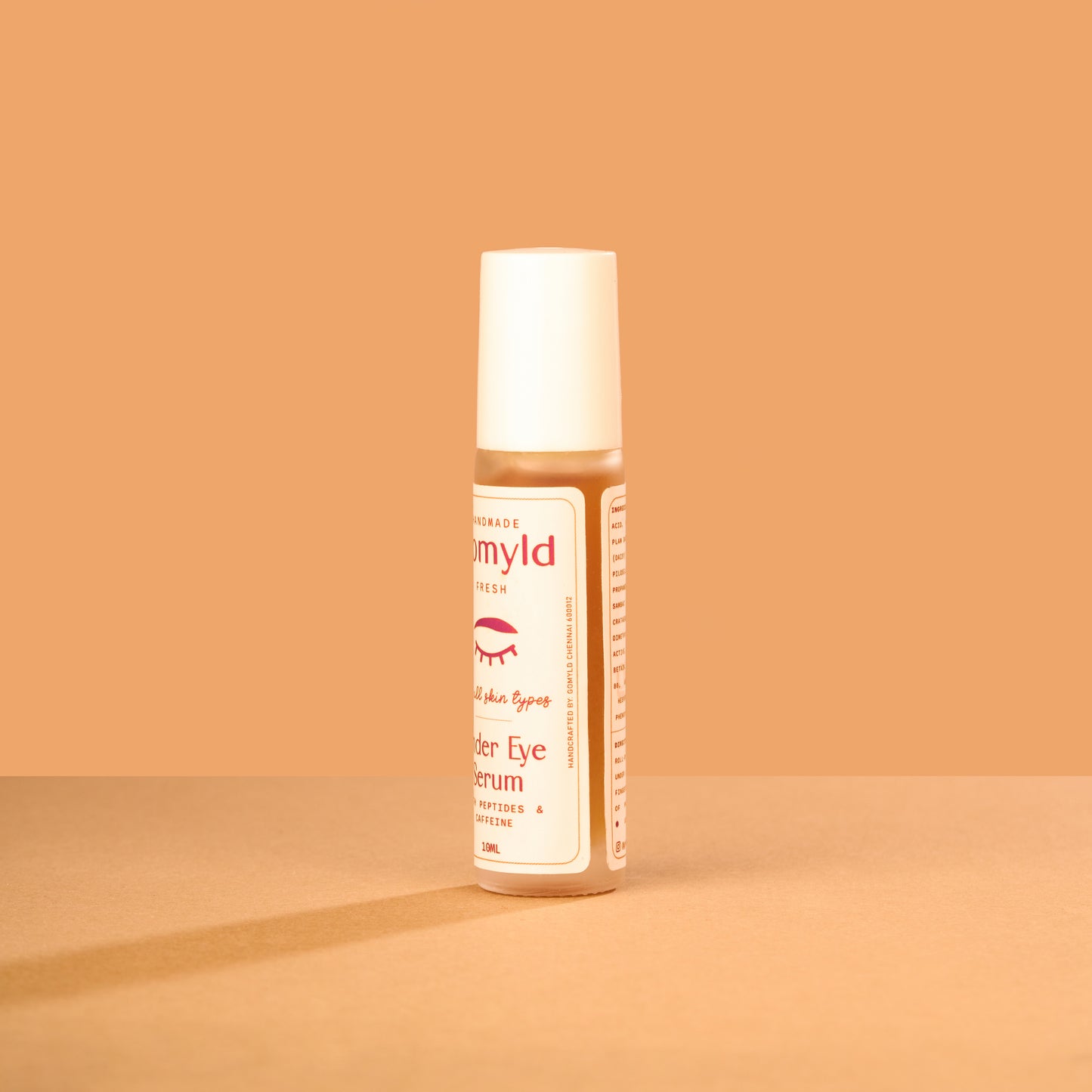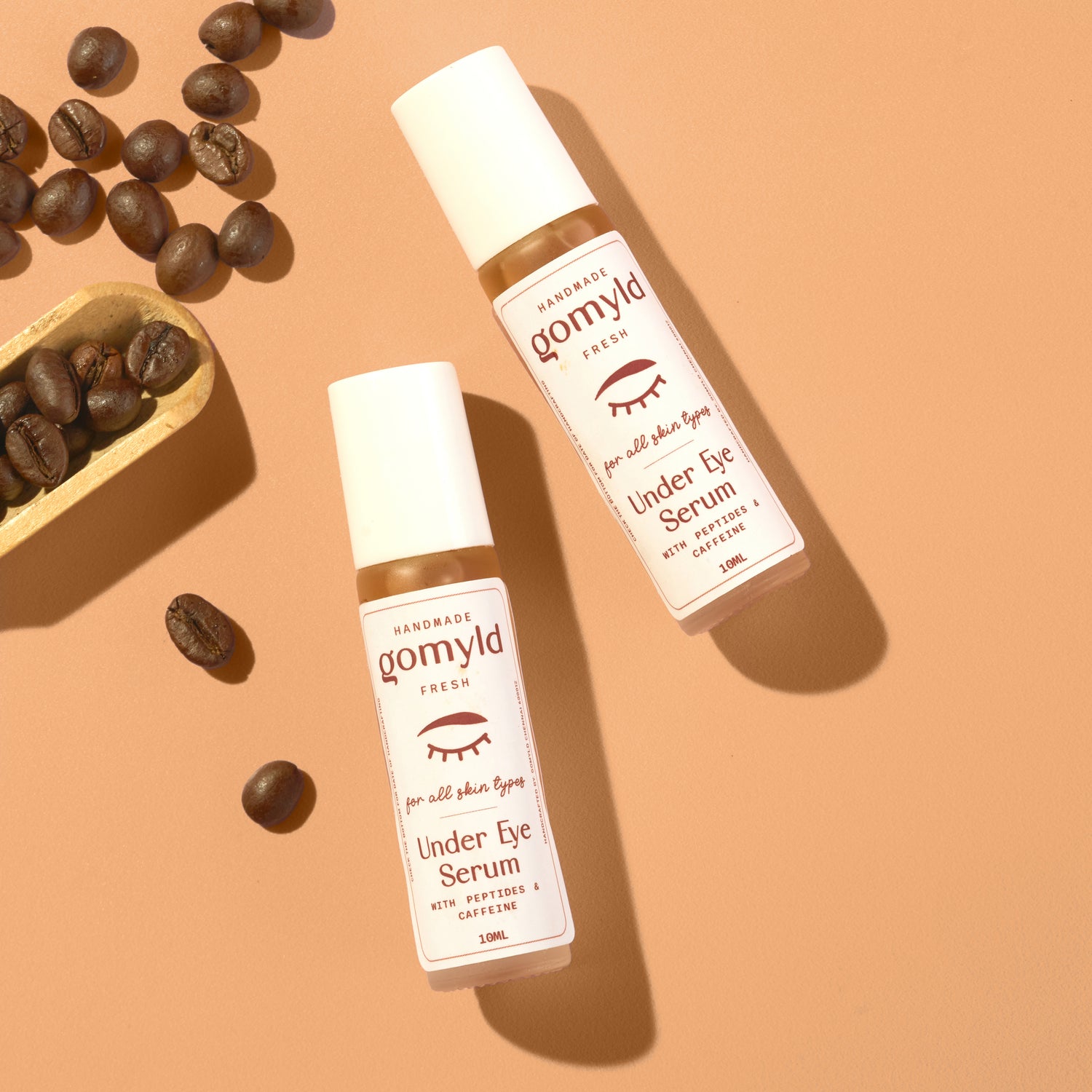 The Serene Symphony of Under Eye Rejuvenation
Immerse yourself in the serene embrace of our Under Eye Serum, a sanctuary of tranquility for your delicate under-eye skin. Awaken your senses with the harmonious fusion of Coffee, Peptides, and Bio Retinol, as they bestow rejuvenation like a gentle spa breeze. Enhanced by the luxurious essence of palm dates, daisy flower, and jasmine flower, this serum offers a symphony of benefits, from diminishing fine lines to restoring elasticity. Enveloping your under-eye area with a spa-like cocoon of care, it ensures all-encompassing protection and nourishment, elevating your self-care routine to an extraordinary experience of beauty and relaxation.
Why our Under Eye Serum is Vital for your skin
Evens out skin texture & color

Reduces fine lines and wrinkles over time

Hydrates, nourishes, and enhances skin

Provides a cooling & calming sensation
GOOD THINGS TAKE TIME, SO DOES GOOD SKIN
All our products are formulated at home and made by hand. We refrain from using chemicals that provide fast and temporary results. Our products are Myld and Effective over time.