Regular price
Rs. 1,000.00
Sale price
Rs. 800.00
Unit price
per
Sale
Sold out
Recommended for All Skin Types
15ML 24K GOLD SERUM + 70G GOLD HANDMADE SOAP BAR
Indulge in luxurious skincare with The Gold Combo. Featuring 24K gold serum and Theia Gold handmade soap. Inspired by ancient ayurvedic practices, this set helps to brighten skin, leaving it feeling soft and glowing. Experience real results with precious gold.
Ingredients

24K Gold Serum
Vitis Vinifera (Grape) Seed Oil, Terminalia Ferdinandi (Kakadu Plum) Seed Oil, Simmondsia Chinensis (Jojoba) Seed Oil, Prunus Amygdalus Dulcis (Sweet Almond) Oil, Cucurbita Pepo (Pumpkin) Seed Oil, Linum Usitatissimum (Flax)seed Oil, Passiflora Edulis Seed Oil, Cocoglycerides, Palmitoyl Glycine, Tocopheryl Acetate, Caprylic / Capric Triglyceride, Phytosterols, Squalane, Peg-8 Caprylic/capric Glycerides, Water, Octyldodeceth-25, Sodium Hyaluronate, 24k Gold, Bio Retinol, Ubiquinone, Curcuma Longa (Turmeric) Root Extract, Co2 Extract-gotu Kula, Amarnath, Pomegranate Seed, Coriander, Extract-cucumber, Licorice, Aloe Vera, Saffron, Sandalwood Oil, Frankincense Oil, Heylichrysum Oil,


Theia Gold Soap Bar
Glycerin Soap Base, Saffron (Red Gold), Extracts - Kakadu Plum, 24K Gold & Sliver Foils, Scrubbing Beads, Lavender Oil, Geranium Oil, Tocopheryl Acetate.
Benefits

24K Gold Serum

• The 24k Gold Serum stimulates collagen production, which is essential for maintaining skin's elasticity and firmness.
• It provides effective anti-aging benefits, reducing the appearance of fine lines and wrinkles.
• It increases firmness and tightness to the skin, contributing to a youthful and lifted appearance.
• This serum enhances the penetration of other skincare ingredients, maximizing their effectiveness.
• It intensely hydrates the skin, ensuring long-lasting moisture retention.
• It brightens and evens out the skin tone, diminishing the look of dark spots for a more radiant complexion.
• The serum's formulation allows it to penetrate deeply into your skin, ensuring maximum effectiveness.
• This serum acts as an anti-inflammatory and antioxidant, helping to protect the skin from damage.
• This serum supports skin repair processes, aiding in the recovery of damaged skin.
• It improves skin texture by promoting a smoother and more refined surface.
• This serum retains moisture, contributing to a supple and plump complexion.
• It soothes and calms the skin, making it suitable for sensitive or irritated skin types.
• It is non-comedogenic, meaning it won't clog pores and is suitable for various skin types.
• The luxurious fusion of neroli, fennel, lemon, carrot, vetiver, frankincense, myrrh, geranium, and sandalwood oils creates a captivating aroma that not only enhances the fragrance of the serum but also elevates the overall skincare experience to a new level of indulgence.

Theia Gold Bar

• Experience the magic of skin brightening as Theia Gold Soap Bar illuminates your complexion.
• This soap clears the way for a revitalized and refreshed appearance.
• This soap immerses your skin in deep hydration, unveiling a texture that's smoother, supple, and incredibly soft.
• It is rich in Vitamin C and helps maintaining your youthful charm, working its wonders day by day.
• It helps reduce rough patches and gives a velvety smooth texture.
• It effortlessly exfoliates away dead skin, revealing renewed beauty.
• It is infused with the exquisite blend of lavender and geranium oils for a soothing aromatic sensation into your skincare routine.
How to use

24K Gold Serum
• Wash your face with soap or face wash.
• Pat dry with a towel.
• Fill the dropper with the product.
• Pour 3-4 drops on your face.
• Massage lightly in circles until absorbed in the skin.
• Make sure to follow up with SPF in the day and moisturizer at night.

Theia Gold Soap Bar
• Use your hands to lather your soap
• Use your fingertips to gently massage the lather over your face or other parts using circular motions
• Make sure to keep the soap / lather from entering your eyes.
• Rinse with water and pat dry

Please Note: Individual experiences with skincare products vary, so patch testing on a small area of skin is essential to avoid adverse reactions. For personalized recommendations, consult a dermatologist, especially if you have specific skin concerns or conditions.
Shipping

All orders placed will be dispatched within 2-3 business days.
Orders placed after 11AM IST on Fridays, will be processed the following Monday.
Business days are Monday-Friday, excluding scheduled closures.
We do not ship orders on Saturdays or Sundays.
Please allow for a + 2 days or - 2 days variation from the delivery period mentioned in case of unforeseen circumstances
Standard shipping parcels is via Surface Mode 

 

WE HAVE A STRICT NO RETURN POLICY.

IN CASE OF ANY DAMAGE ON RECIEVING GOODS, CONTACT US ON +91 9003030583. PLEASE MAKE SURE TO TAKE PHOTO AND VIDEO PROOF OF UNPACKING. 

 
Return policy

WE HAVE A STRICT NO EXCHANGE NO REFUND POLICY.
View full details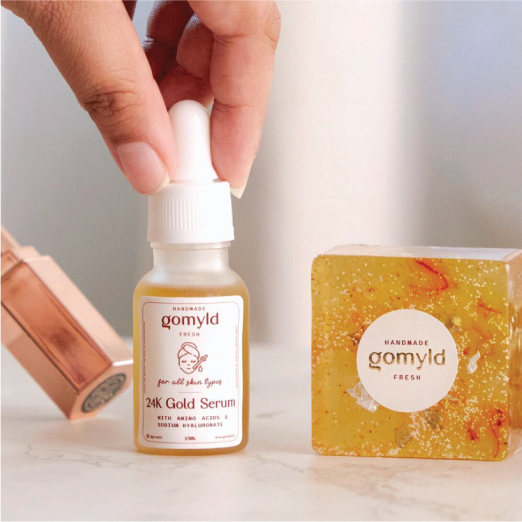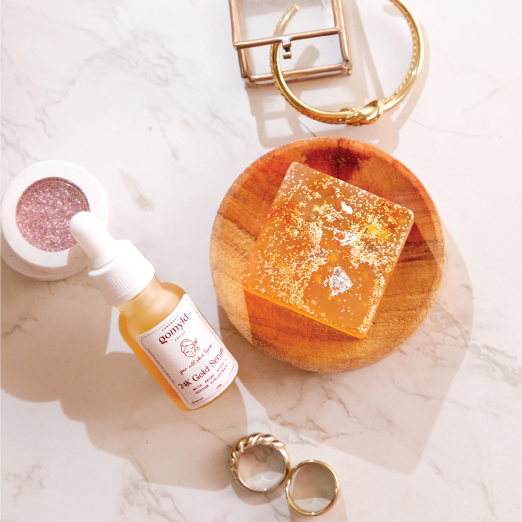 The Golden Ayurvedic Skincare Elixir
Indulge in the ultimate skincare luxury with our "Golden Glow Duo" - a combination of our 24k Gold Serum and Theia Gold Soap Bar. Crafted with inspiration from ancient Ayurvedic practices favored by royalty, these products are designed to rejuvenate and nourish your skin. The 24k Gold Serum imparts a radiant, youthful complexion, while Theia Gold Soap Bar cleanses and revitalizes, leaving you feeling like royalty yourself. Experience the opulence of this skincare kit, fit for queens and kings of today.
GOOD THINGS TAKE TIME, SO DOES GOOD SKIN
All our products are formulated at home and made by hand. We refrain from using chemicals that provide fast and temporary results. Our products are Myld and Effective over time.