Regular price
Rs. 780.00
Sale price
Rs. 690.00
Unit price
per
Sale
Sold out
100ML HERBAL HAIR OIL
This Herbal Hair Oil is the perfect choice for a calming beauty regime. Inspired by ancient practices, this oil combines over more than 30 herbs to provide all-round nourishment for your scalp and hair. Relax with the blend of essential oils and enjoy healthy, beautiful locks.

Ingredients

Pepper Mint, Cocos Nucifera (Coconut) Oil, Olea Europaea (Virgin Olive) Fruit Oil, Ricinus Communis Seed (Virgin Castor)oil, Amla, Murraya, Methi Seeds, Dhawai Phool, Brahmi, Dill, Guduchi, Blue Ginger, Maror Phali, Kapur Kachri, Kala Jira, Kalijiri, Nicker Bean, Bringaraj, Rosary Pea, Indrajav, Jujube Fruit, Moringa, Motha Grass Root, Lotus Pollen, Fever Grass, Curry Leaves, Jamal Gota, Pipli, Gokshura, Gurmar, Gokula Kanta, Cedarwood Oil, Vaividang, Jasmin Oil, Jatamansi, Rosemary Oil, Lavender Oil, Tocopheryl Acetate.

Benefits

• The Herbal Hair Oil strengthens hair roots, preventing hair fall.
• It revitalizes hair and promotes the growth of new strands.
• This Hair Oil heals and repairs the scalp, encouraging new hair buds.
• By opening up blocked pores, it significantly boosts hair growth.
• Regular application provides natural proteins, vitamins, and essential nutrients.
• Its antifungal properties actively prevent and reduce dandruff.
• It stops split ends and promotes faster growth.
• This Hair Oil softens the hair, enhancing its texture.
• It strengthens hair from the roots, resulting in glossy and vibrant hair. It also prevents premature graying.
• It also works to soothe the scalp and enhance circulation
• With consistent use, it maintains hair strength.
• It also cleanses like an exfoliator with its natural properties.
• The combination of cedarwood, lavender, rosemary, jasmine, and tea tree oils in the Herbal Hair Oil creates a soothing natural aroma that enhances the experience and brings a sense of relaxation.
How to use

• Pour a handful of oil and massage your scalp for 7 to 10 minutes.
• Keep over night or for a minimum of 1 hour.
• Use a mild shampoo and cleanse scalp well.
• Use thrice a week.

Individual experiences with skincare products vary, so patch testing on a small area of skin is essential to avoid adverse reactions. For personalized recommendations, consult a dermatologist, especially if you have specific skin concerns or conditions.
Shipping

All orders placed will be dispatched within 2-3 business days.
Orders placed after 11AM IST on Fridays, will be processed the following Monday.
Business days are Monday-Friday, excluding scheduled closures.
We do not ship orders on Saturdays or Sundays.
Please allow for a + 2 days or - 2 days variation from the delivery period mentioned in case of unforeseen circumstances
Standard shipping parcels is via Surface Mode 

 

WE HAVE A STRICT NO RETURN POLICY.

IN CASE OF ANY DAMAGE ON RECIEVING GOODS, CONTACT US ON +91 9003030583. PLEASE MAKE SURE TO TAKE PHOTO AND VIDEO PROOF OF UNPACKING. 

 
Return policy

WE HAVE A STRICT NO EXCHANGE NO REFUND POLICY.
View full details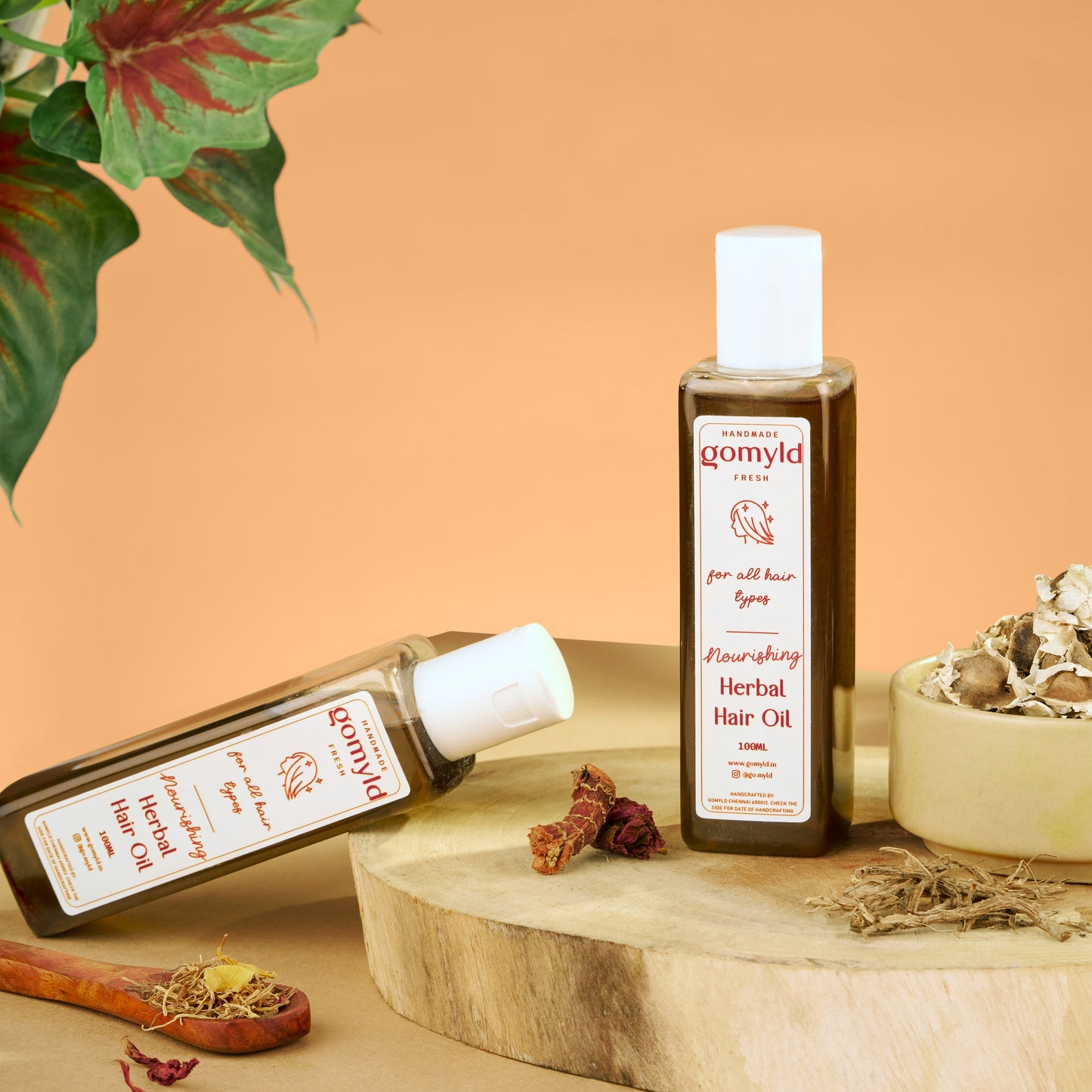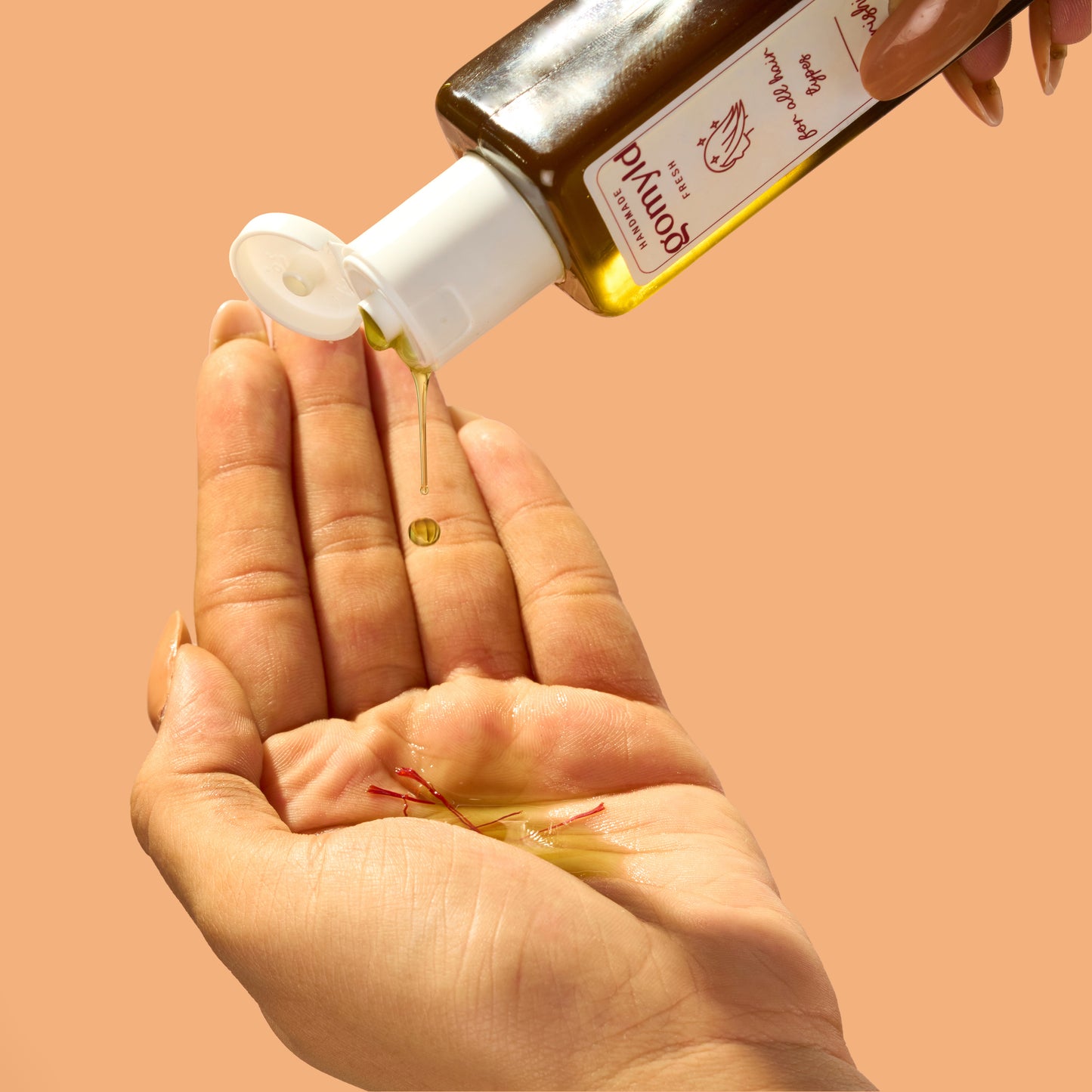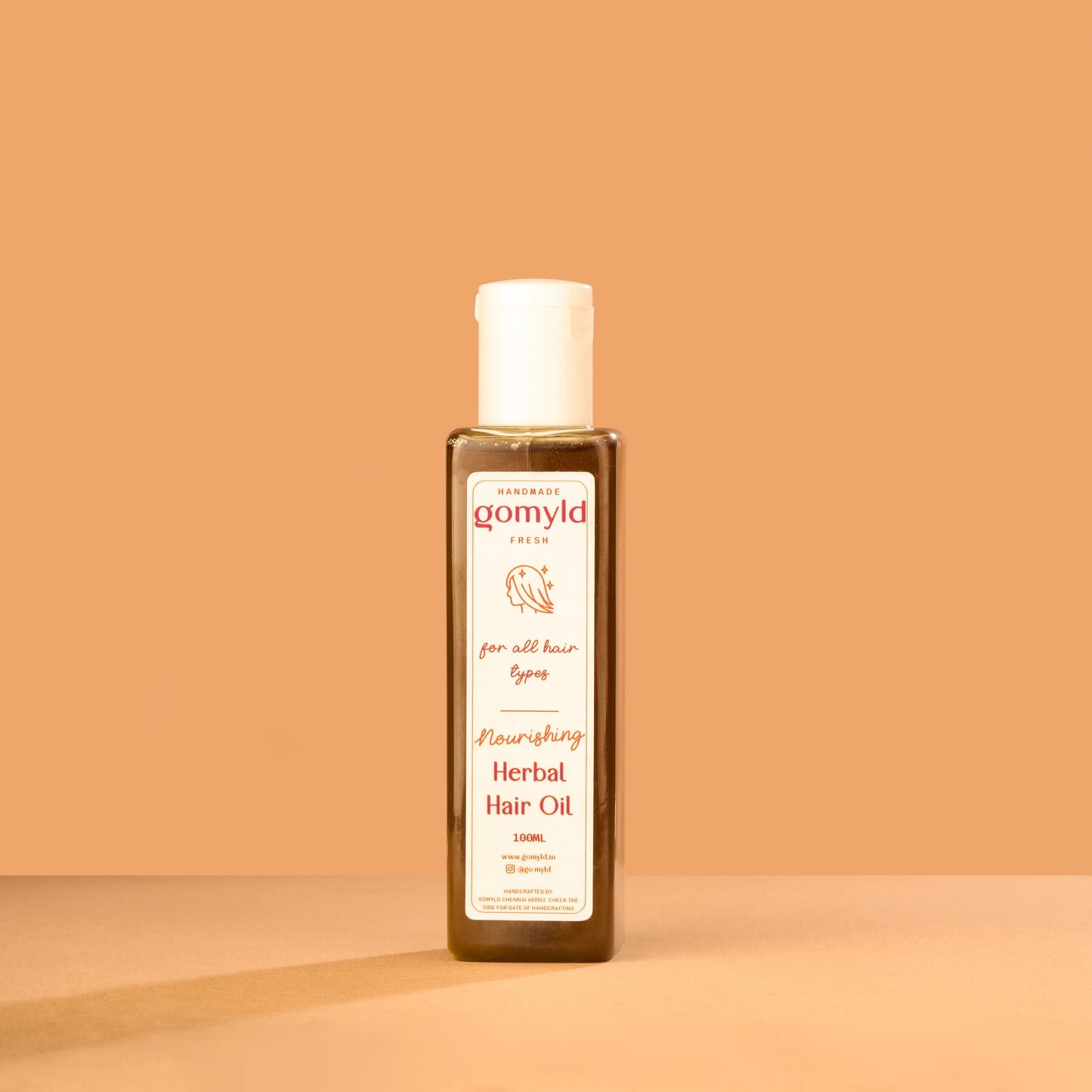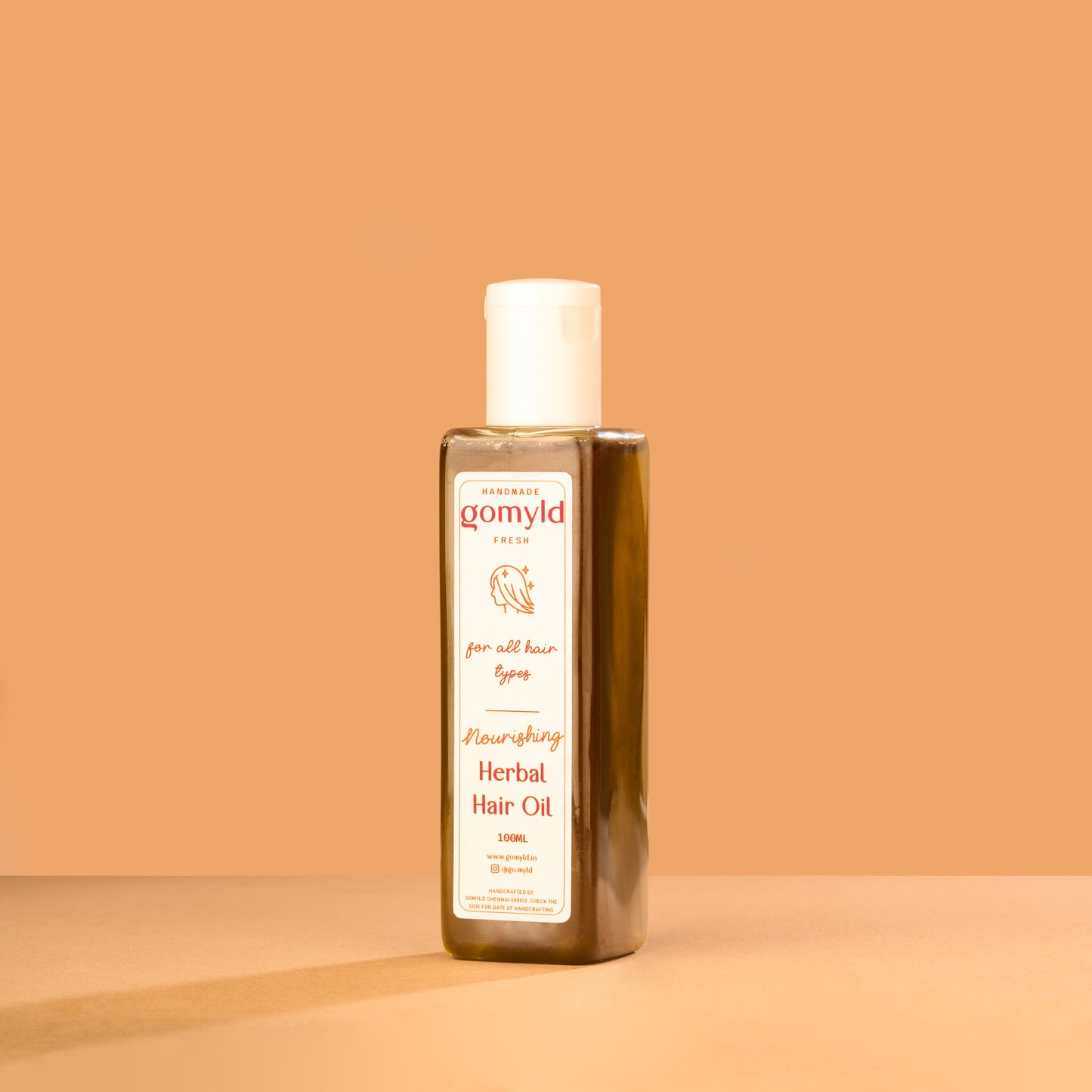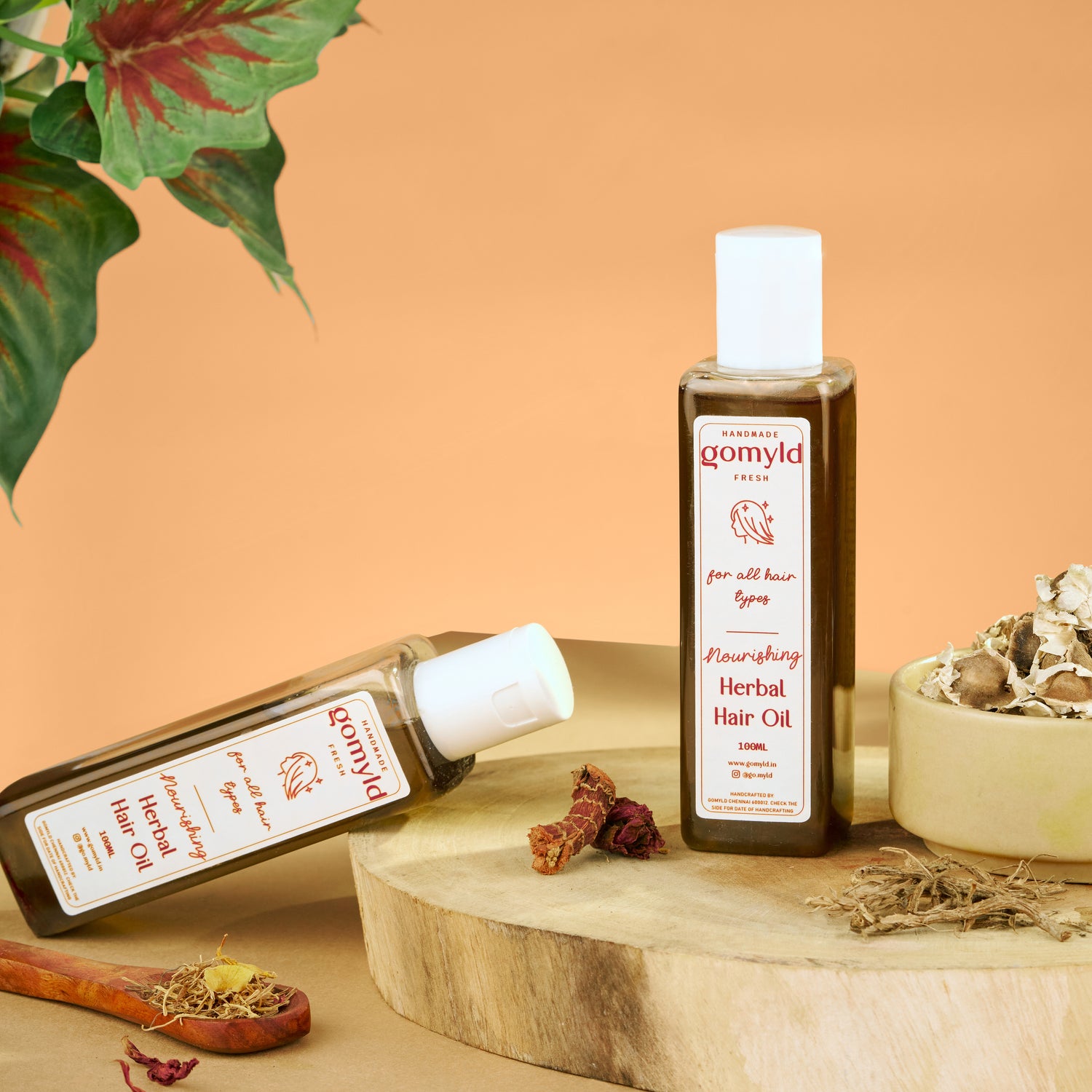 Nourishment in Every Drop
Embark on the ultimate hair care journey with our Nourishing Hair Oil, a symphony of nature's finest. Infused with the essence of Saffron for vibrancy, Bhringraj for strength, Jatamansi for tranquility, and Amla for vitality, this elixir boasts a symphony of exotic oils – Moringa, Brahmi, Lotus pollen, and Kalonji. Crafted with care, its lightweight formula envelops each strand, preventing split ends while soothingly healing and repairing the scalp. With the gentle caress of Rosemary, the calming embrace of Lavender, the grounding touch of Cedarwood, and the floral whispers of Jasmine Oil, it's a melody of benefits that nourishes deeply and sparks new hair buds. Elevate your hair care routine with the touch of nature's harmony.
Why our Hair Oil is Vital for your skin
Strengthens hair & boosts volume

Hydrates scalp and retains moisture

Promotes healthy scalp environment

Enhances manageability & styling
GOOD THINGS TAKE TIME, SO DOES GOOD SKIN
All our products are formulated at home and made by hand. We refrain from using chemicals that provide fast and temporary results. Our products are Myld and Effective over time.