Regular price
Rs. 570.00
Sale price
Rs. 485.00
Unit price
per
Sale
Sold out
Recommended for Oily, Combination & Normal Skin Type
15ML ACNE SERUM
Inspired by ancient beauty formulas, the Neem & Turmeric Acne Serum is our magic potion to help reduce, soothe and control Acne. Experience the calming and cooling effects of this serum immediately and its long-term benefits over time.
Ingredients

Ingredients: Vitis Vinifera (Grape) Seed Oil, Simmondsia Chinensis (Jojoba) Seed Oil, Prunus Amygdalus Dulcis (Sweet Almond)oil, Linum Usitatissimum (Flax) Seed Oil, Cucurbita Pepo (Pumpkin) Seed Oil, Tea Tree Oil, Frankincense Oil, Neem Oil, Turmeric Oil, Cinnamon Oil, Lavender Oil, Rosemary Oil, Myrrh Oil, Clove Oil, Helichrysum Oil, Benzoin Oil, Patchouli Oil, Pine Oil, Extracts: Liquorice, Cucumber, Aloe Vera, Tocopheryl Acetate
Benefits

• This serum contains extremely light oils that will not clog pores.
• Neem and turmeric, the heroes of this composition, combine their powers to gently fade away those stubborn acne marks, blemishes, and uneven pigmentation.
• It is highly Antimicrobial and Anti-Inflammatory, helps in reducing acne-causing bacteria
• It removes excess oil while providing efficient hydration, balancing the skin's moisture levels.
• It helps calm redness and irritation. Hydrates and soothes irritated skin.
• It is an antiseptic, supports wound healing and oil regulation along with skin rejuvenation.
• Infused with the blend of Tea Tree, Frankincense, Neem, Turmeric, Cinnamon, Lavender, Rosemary, Patchouli & Pine it has an leafy and subtly spicy sweet aroma that delights the senses.
How to use

• Use the Serum at night before you sleep.
• Wash your face with soap or face wash.
• Pat dry with a towel.
• Fill the dropper with the product.
• Pour 3-4 drops on your face.
• Massage lightly in circles until absorbed in the skin.
• Leave it over night & wash in the morning.

Please Note: Individual experiences with skincare products vary, so patch testing on a small area of skin is essential to avoid adverse reactions. For personalized recommendations, consult a dermatologist, especially if you have specific skin concerns or conditions.
Shipping

All orders placed will be dispatched within 2-3 business days.
Orders placed after 11AM IST on Fridays, will be processed the following Monday.
Business days are Monday-Friday, excluding scheduled closures.
We do not ship orders on Saturdays or Sundays.
Please allow for a + 2 days or - 2 days variation from the delivery period mentioned in case of unforeseen circumstances
Standard shipping parcels is via Surface Mode 

 

WE HAVE A STRICT NO RETURN POLICY.

IN CASE OF ANY DAMAGE ON RECIEVING GOODS, CONTACT US ON +91 9003030583. PLEASE MAKE SURE TO TAKE PHOTO AND VIDEO PROOF OF UNPACKING. 

 
Return policy

WE HAVE A STRICT NO EXCHANGE NO REFUND POLICY.
View full details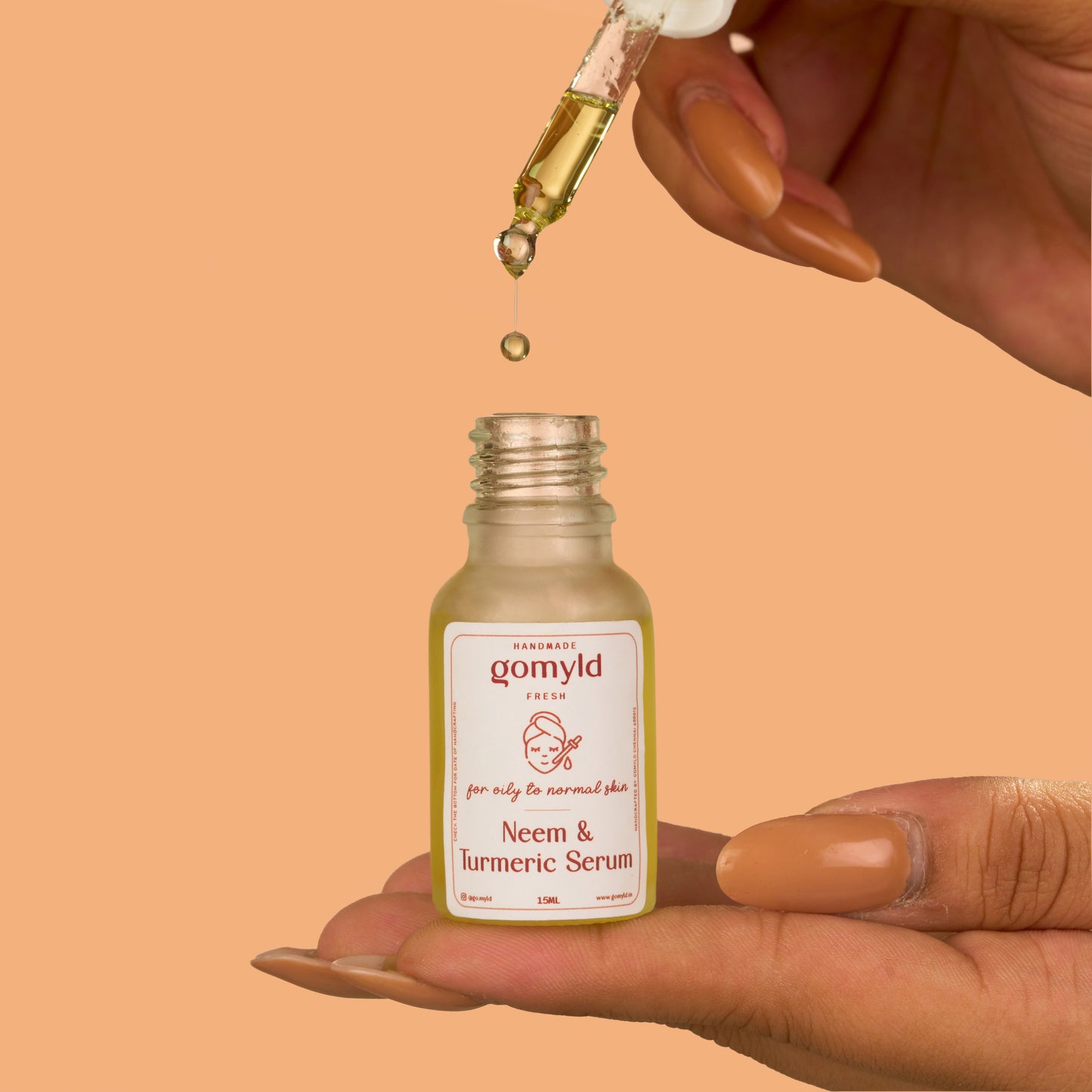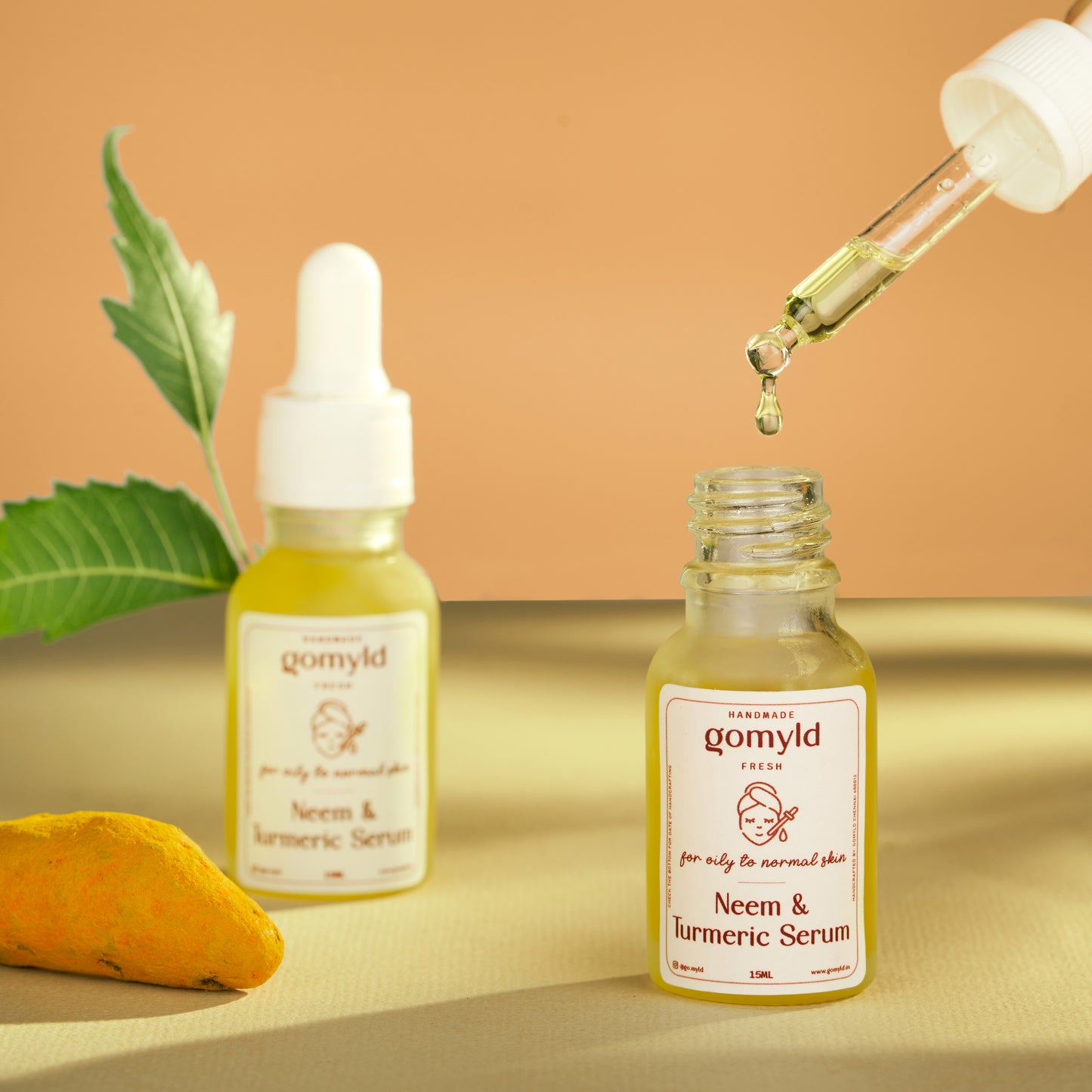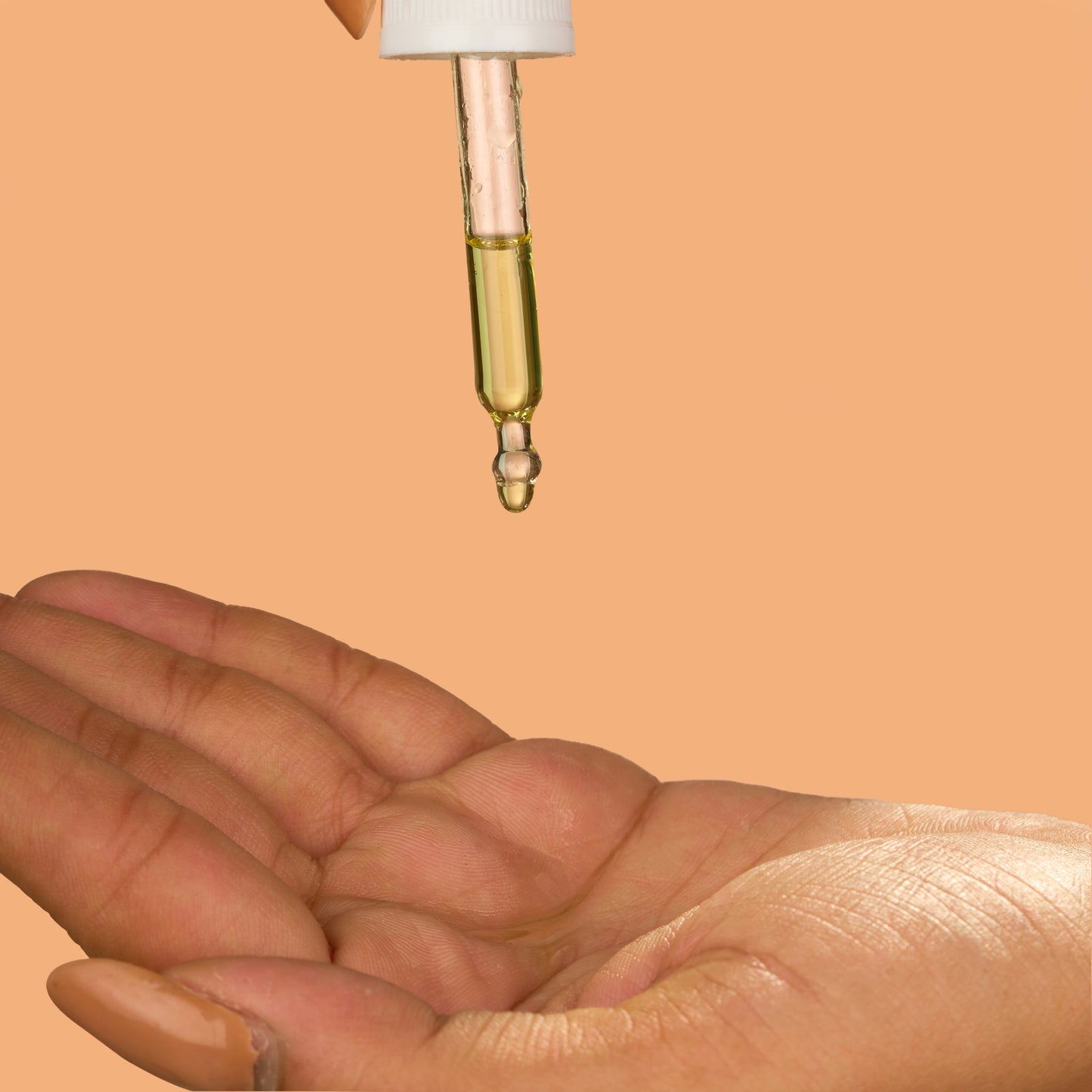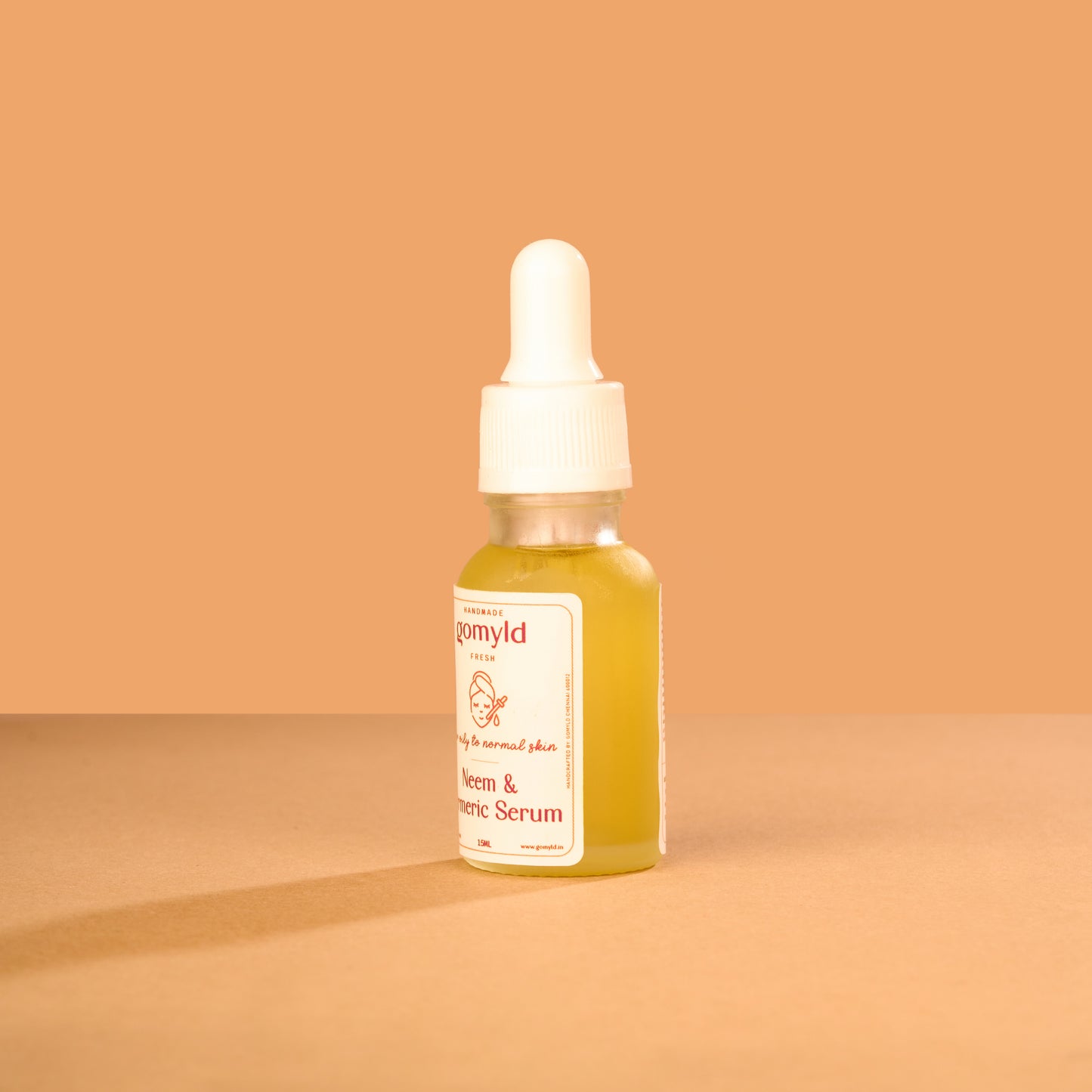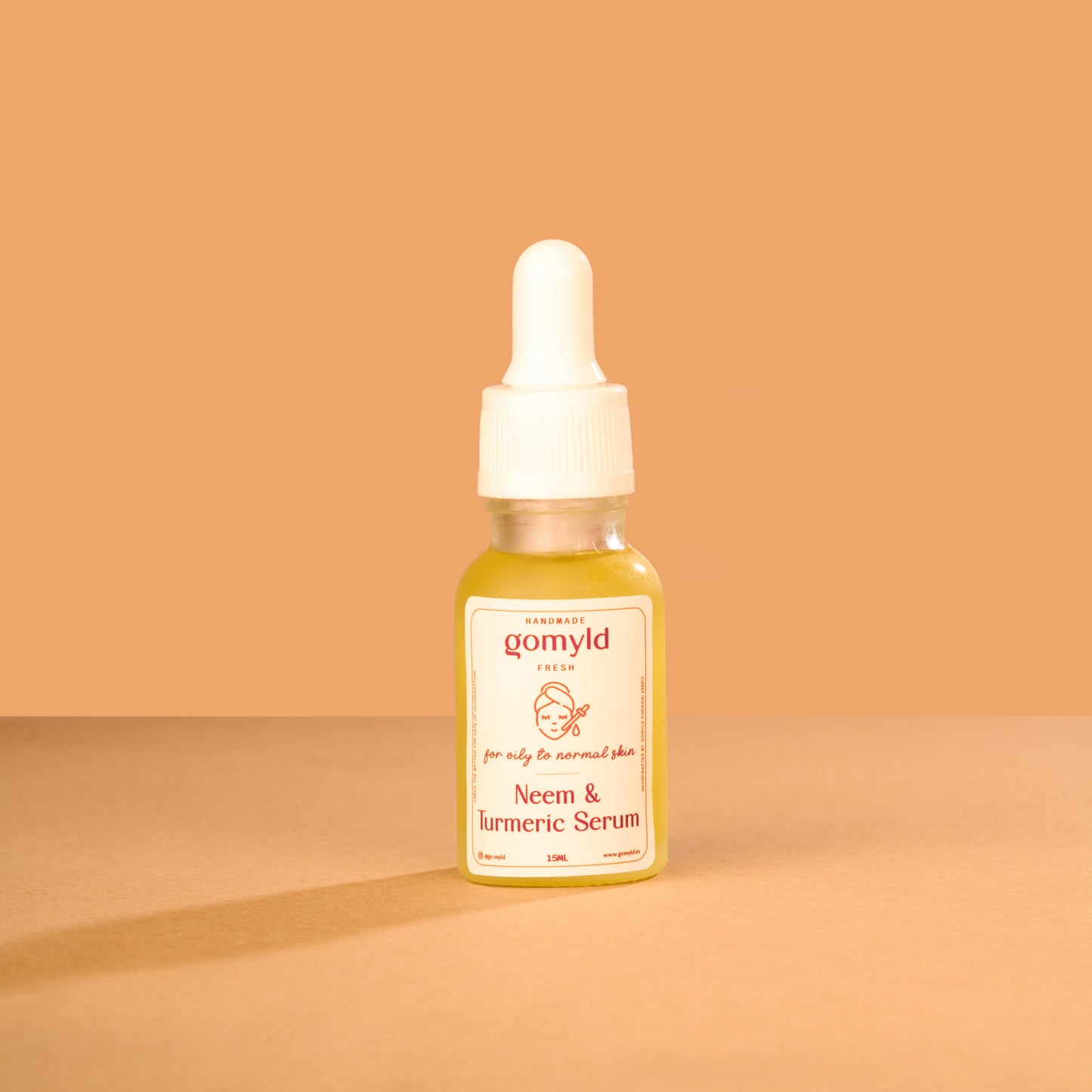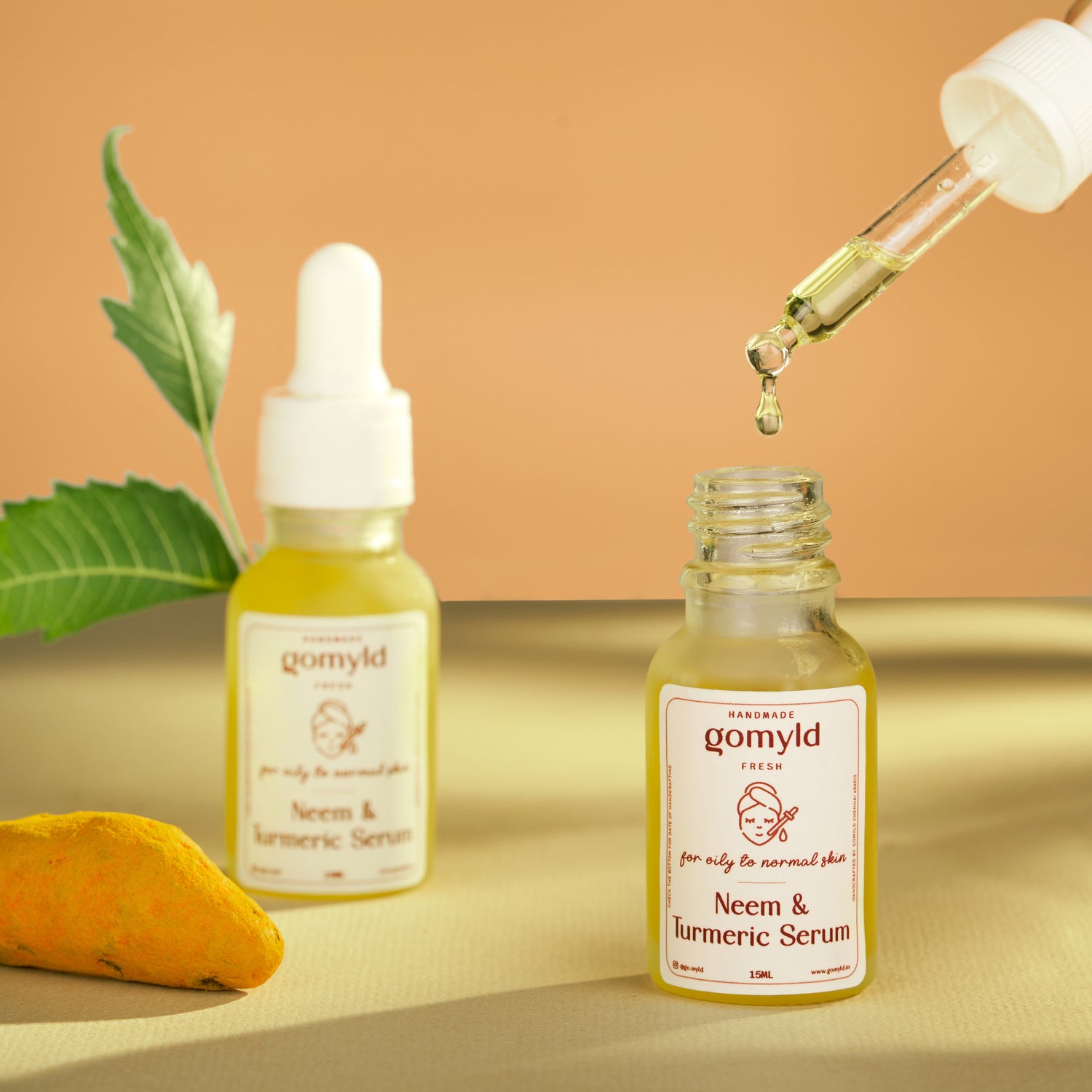 Neem-Turmeric Acne Alchemy: Nature's Clearing Serum
Indulge in the rejuvenating embrace of our Neem & Turmeric Acne Serum, a symphony of nature's treasures. Let the soothing touch of neem and turmeric dance upon your skin, accompanied by a chorus of exotic oils like grape seed, jojoba, tea tree, and pumpkin. With their harmonious blend, this serum unveils the magic of nature's potion for acne-prone skin, serenading you with the benefits of their clarifying and nourishing symphony. Your skin's journey to radiance begins here, as each drop whispers the secrets of a balanced, refreshed complexion.
Why our Acne Serum is Vital for your skin
Reduces inflammation and redness

Relieves sunburn and skin irritation

Balances oil production & controls excess oil

Evens out skin texture & color
GOOD THINGS TAKE TIME, SO DOES GOOD SKIN
All our products are formulated at home and made by hand. We refrain from using chemicals that provide fast and temporary results. Our products are Myld and Effective over time.