Regular price
Sale price
Rs. 200.00
Unit price
per
Sale
Sold out
Recommended for All Skin Types
20GM LIP SCRUB
Nourish and revitalize your lips with Mojito Lip Scrub! This mild and fun sugar scrub features exotic oils like jojoba and sweet almond for ultimate hydration plus exfoliation. An invigorating minty spearmint fragrance and refreshing lemon flavor make for a soothing pampering experience.
Ingredients

Simmondsia Chinensis (Jojoba) Seed Oil, Prunus Amygdalus Dulcis (Sweet Almond) Oil,
Peg-40 Hydrogenated Castor Oil, Cocos Nucifera (Coconut) Oil, Tocopheryl Acetate, Butyrospermum Parkii (Shea Butter), Cera Alba (Bee Wax), Sugar, Lemon Oil, Spearmint Oil, Peppermint Oil
Benefits

• The Mojito Lip Scrub treats dry and chapped lips, as it gently exfoliates to remove dead skin cells, leaving your lips smooth and moisturized.
• It helps boost the appearance of plump and healthy lips by massaging the lip scrub, improving blood circulation for a revitalized look.
• Infused with a delightful blend of natural oils like lemon, spearmint, and pepper, the Mojito Lip Scrub offers a refreshing lemon zing taste, adding a pleasant experience when you happen to lick your lips.
How to use

• Take some lip scrub on your finger.
• Spread the lip scrub evenly around your lips with you finger.
• Press your lips together and rub your bottom lip against your top lip in a circular motion.
• Rise lips with clean water.
• Pat them dry with a soft towel or tissue.
• Moisturize by applying lip balm.

Please Note: Individual experiences with skincare products vary, so patch testing on a small area of skin is essential to avoid adverse reactions. For personalized recommendations, consult a dermatologist, especially if you have specific skin concerns or conditions.
Shipping

All orders placed will be dispatched within 2-3 business days.
Orders placed after 11AM IST on Fridays, will be processed the following Monday.
Business days are Monday-Friday, excluding scheduled closures.
We do not ship orders on Saturdays or Sundays.
Please allow for a + 2 days or - 2 days variation from the delivery period mentioned in case of unforeseen circumstances
Standard shipping parcels is via Surface Mode 

 

WE HAVE A STRICT NO RETURN POLICY.

IN CASE OF ANY DAMAGE ON RECIEVING GOODS, CONTACT US ON +91 9003030583. PLEASE MAKE SURE TO TAKE PHOTO AND VIDEO PROOF OF UNPACKING. 

 
Return policy

WE HAVE A STRICT NO EXCHANGE NO REFUND POLICY.
View full details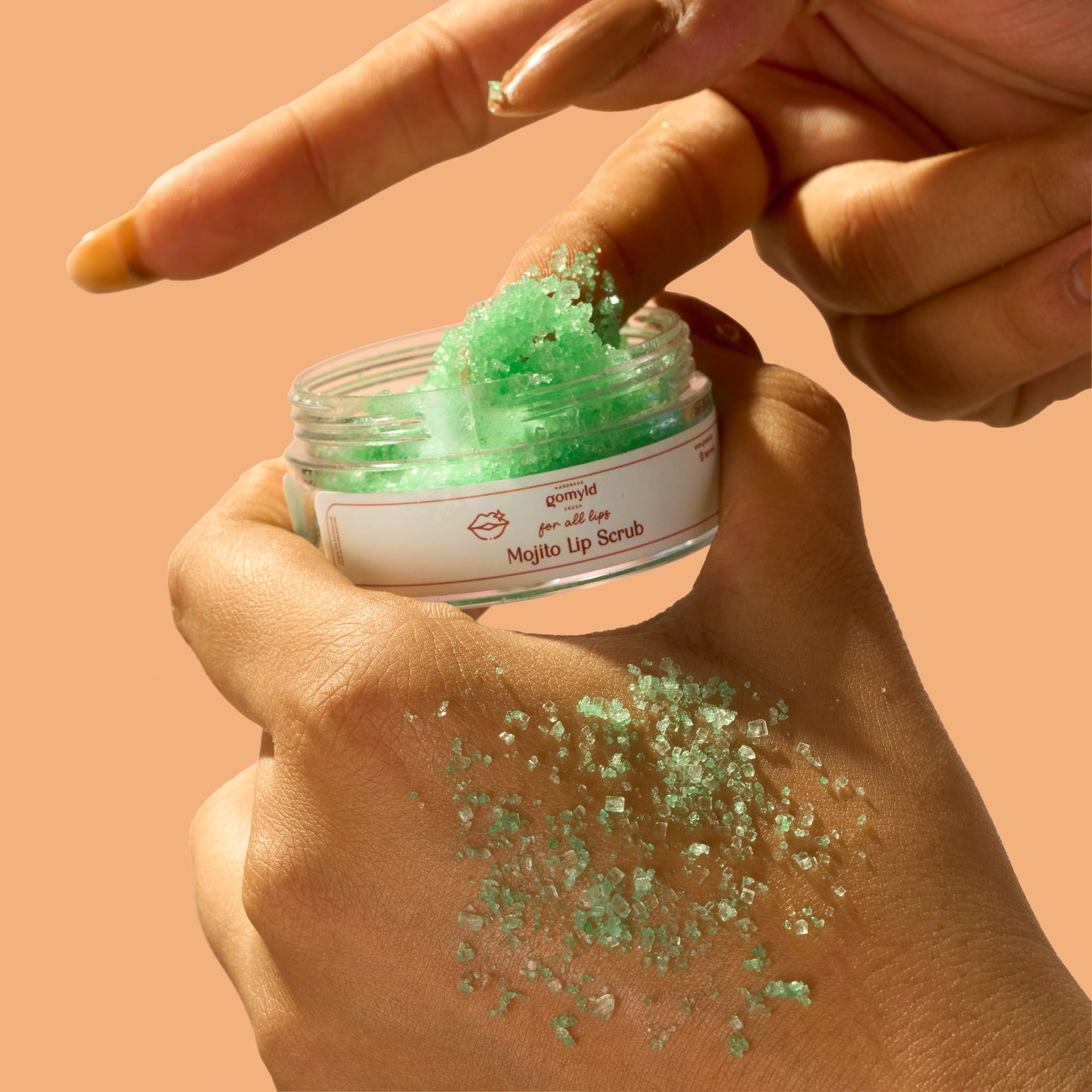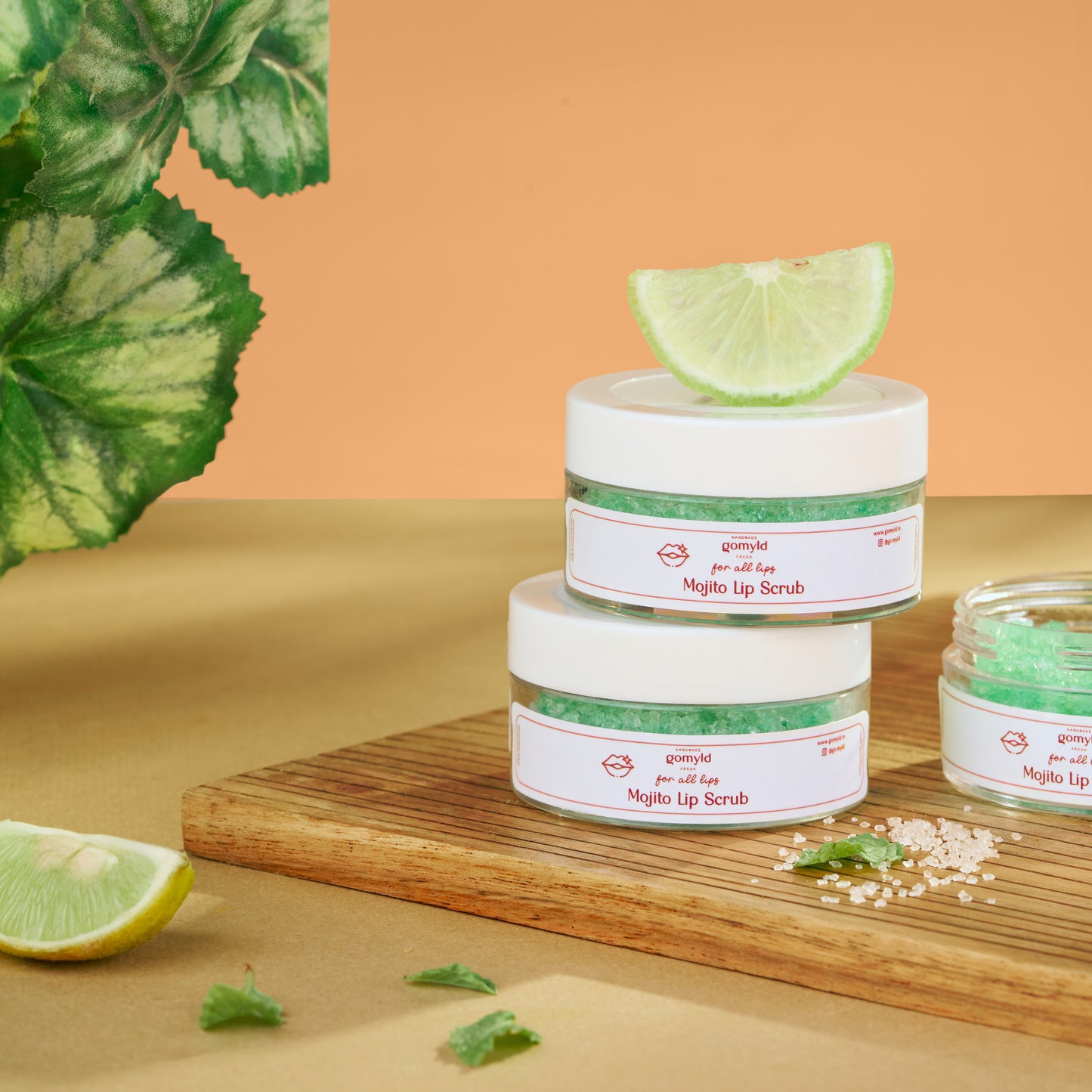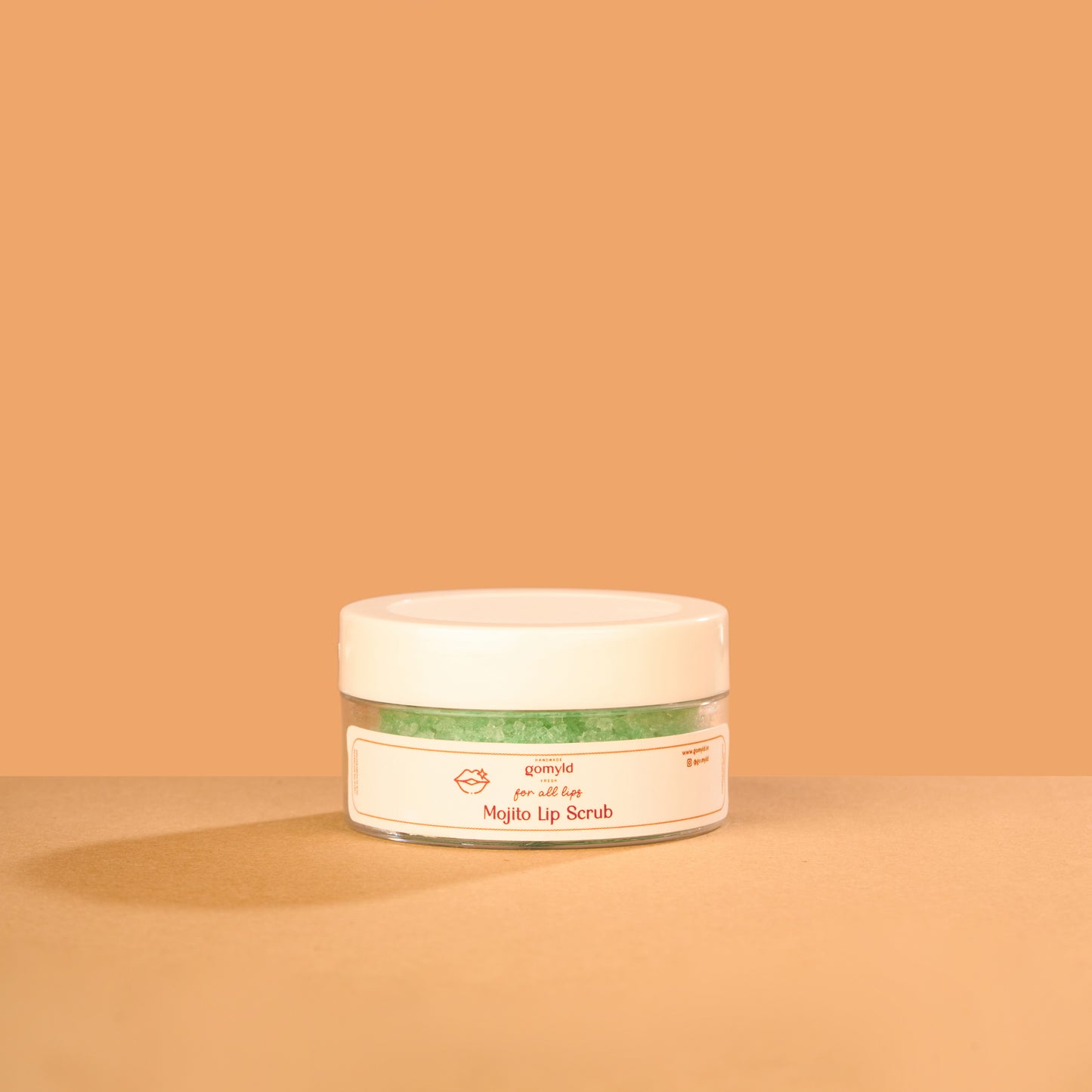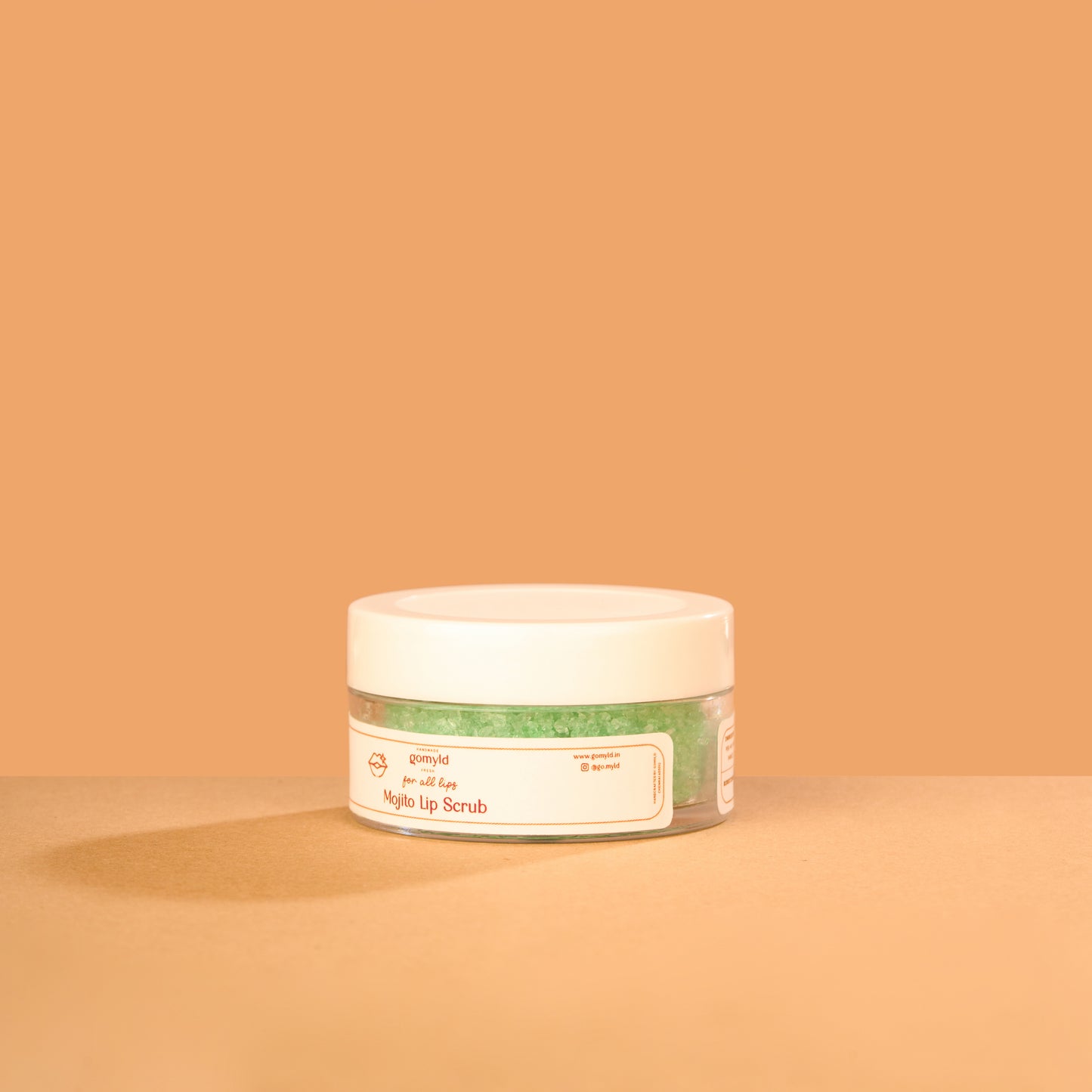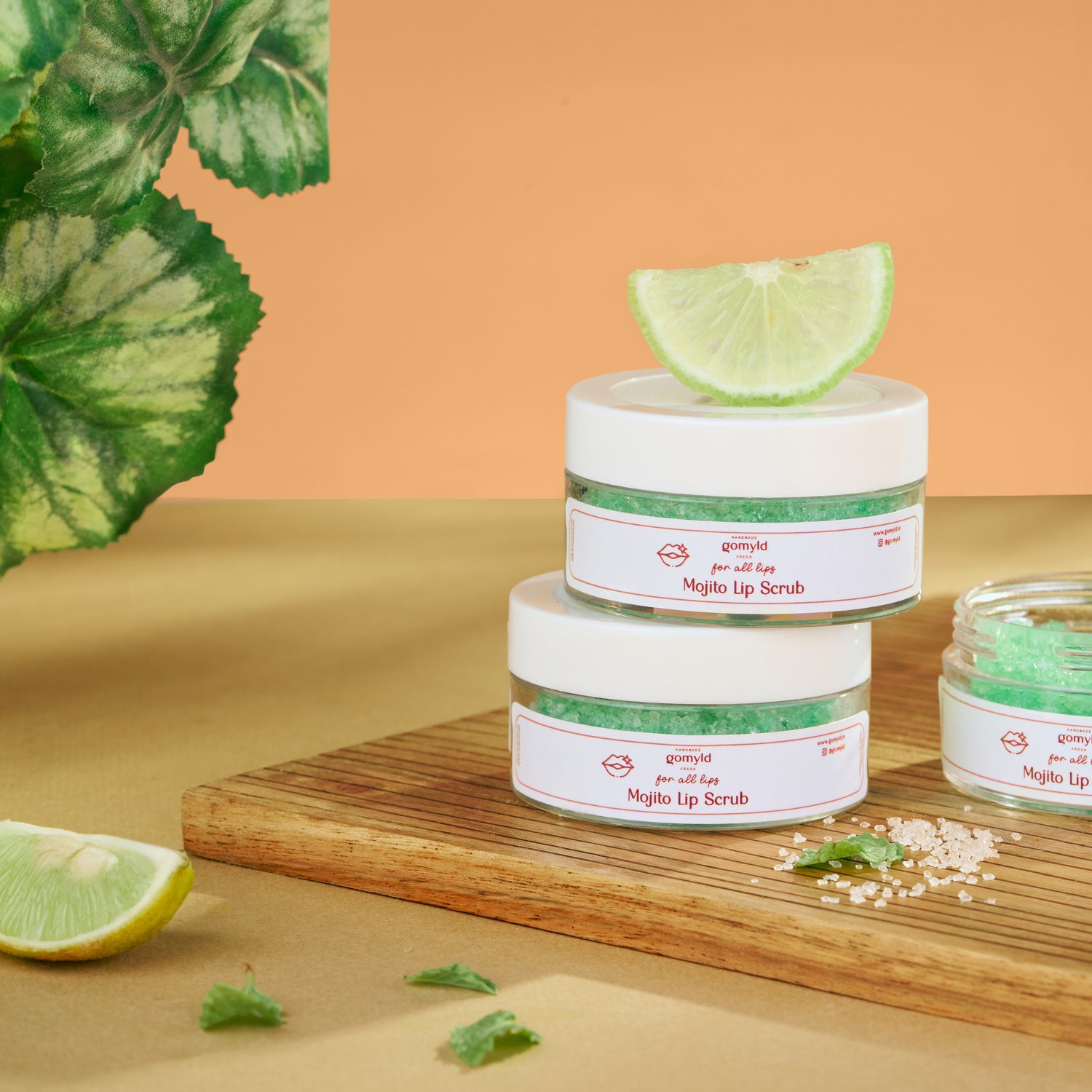 Minty Citrus Bliss
Immerse your lips in the rejuvenating bliss of our Mojito Lip Scrub. Crafted with a nourishing blend of Jojoba Oil, Castor Oil, Coconut Oil, Sweet Almond Oil, Shea Butter, and Beeswax, this sugar scrub gently exfoliates and moisturizes, leaving your lips soft and supple. Enhanced with the invigorating essences of Lemon, Spearmint, and Peppermint oils, indulge in the delightful sensory experience and savor the refreshing lemon-minty taste for a moment of pure indulgence.
Why our Lip Scrub is vital for your lips
Exfoliates to reveal smoother, softer lips

Improves the texture of your lips

Removes discoloration on the surface

Nourishes and Hydrates the lips
GOOD THINGS TAKE TIME, SO DOES GOOD SKIN
All our products are formulated at home and made by hand. We refrain from using chemicals that provide fast and temporary results. Our products are Myld and Effective over time.