Regular price
Rs. 610.00
Sale price
Rs. 485.00
Unit price
per
Sale
Sold out
70G SHAMPOO BAR

Our Double Protein Shampoo Bar is powered with both wheat and oats to nourish, thicken and soothe hair. Its rich lather leaves hair feeling clean and soft without stripping away natural oils. Feel the calming difference. Switch to a Shampoo Bar now! 
Ingredients

Sodium Cocoyl Isethionate, Sodium Lauryl Sulfoacetate, Cocamidopropyl Betaine, Behentrimonium Methosulfate, Cocoa Butter, Sodium Lactate, Cetyl Alcohol, Stearic Acid, Wheat Protein, Oats Protein, Aloe Vera Extract, DL Panthenol, Cetrimonium Chloride, Polyquaternium 10, Essential Oils (Lavender, Rosemary, Cedarwood), Phenoxyethanol (and) Ethylhexylglycerin, Green Mica.
Benefits

• This shampoo bar is designed to strengthen your hair, reducing the likelihood of breakage, and ensuring your hair stays strong and resilient.
• It works to thicken and add volume to your hair, resulting in a fuller and more textured appearance, giving your hair a natural lift.
• By deeply nourishing your scalp, it fosters an environment for healthy hair growth, allowing your hair to flourish.
• This shampoo bar doesn't just cleanse; it also provides deep moisture to your hair, making it easier to manage and ensuring it remains well-hydrated.
• With regular use, it softens and conditions your hair, leaving it with a luxurious silky texture and a healthy shine.
• Styling your hair becomes a breeze as it becomes more manageable, saving you time and effort in your daily routine.
• Improved scalp circulation is an added benefit, promoting overall healthier hair growth for a lush and vibrant look.
• It goes beyond surface care, enhancing hair elasticity and overall health, making your hair strong and resilient from the roots to the tips..
• Infused with lavender, cedarwood, and rosemary oils, this shampoo bar offers a sweet, natural fragrance, gently promotes relaxation, and enhances your overall shower experience.
How to use

• Wet your hair thoroughly with warm water.
• Moisten the bar and then rub it directly through your hair from scalp to ends, working up a thick lather with the pads of your fingers (do not use your fingernails).
• Rinse thoroughly with warm water until all of the shampoo is removed.
• Use 2-3 times a week.

Individual experiences with haircare products vary, so patch testing on a small area of scalp is essential to avoid adverse reactions. For personalized recommendations, consult a dermatologist, especially if you have specific skin concerns or conditions.
Shipping

All orders placed will be dispatched within 2-3 business days.
Orders placed after 11AM IST on Fridays, will be processed the following Monday.
Business days are Monday-Friday, excluding scheduled closures.
We do not ship orders on Saturdays or Sundays.
Please allow for a + 2 days or - 2 days variation from the delivery period mentioned in case of unforeseen circumstances
Standard shipping parcels is via Surface Mode 

 

WE HAVE A STRICT NO RETURN POLICY.

IN CASE OF ANY DAMAGE ON RECIEVING GOODS, CONTACT US ON +91 9003030583. PLEASE MAKE SURE TO TAKE PHOTO AND VIDEO PROOF OF UNPACKING. 

 
Return policy

WE HAVE A STRICT NO EXCHANGE NO REFUND POLICY.
View full details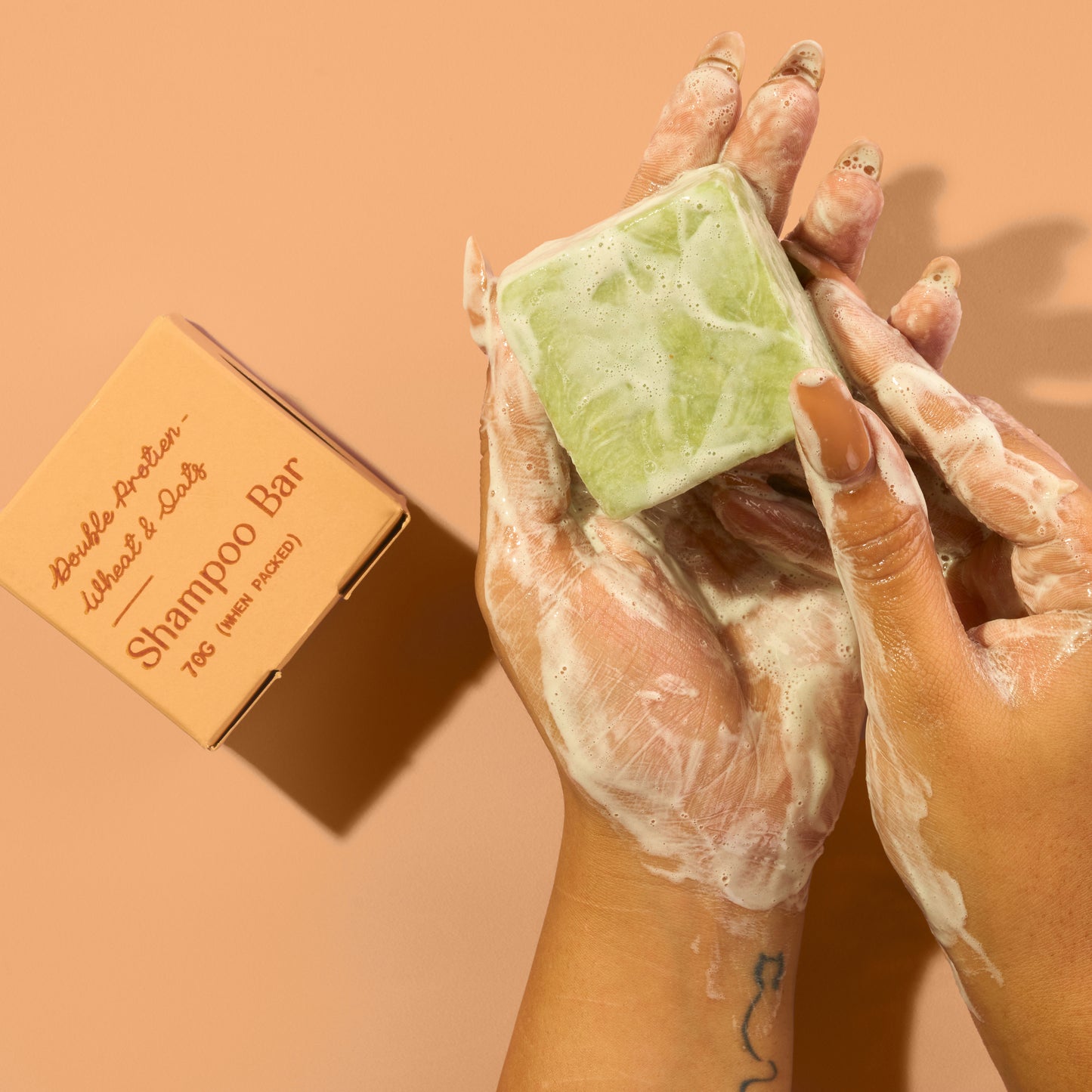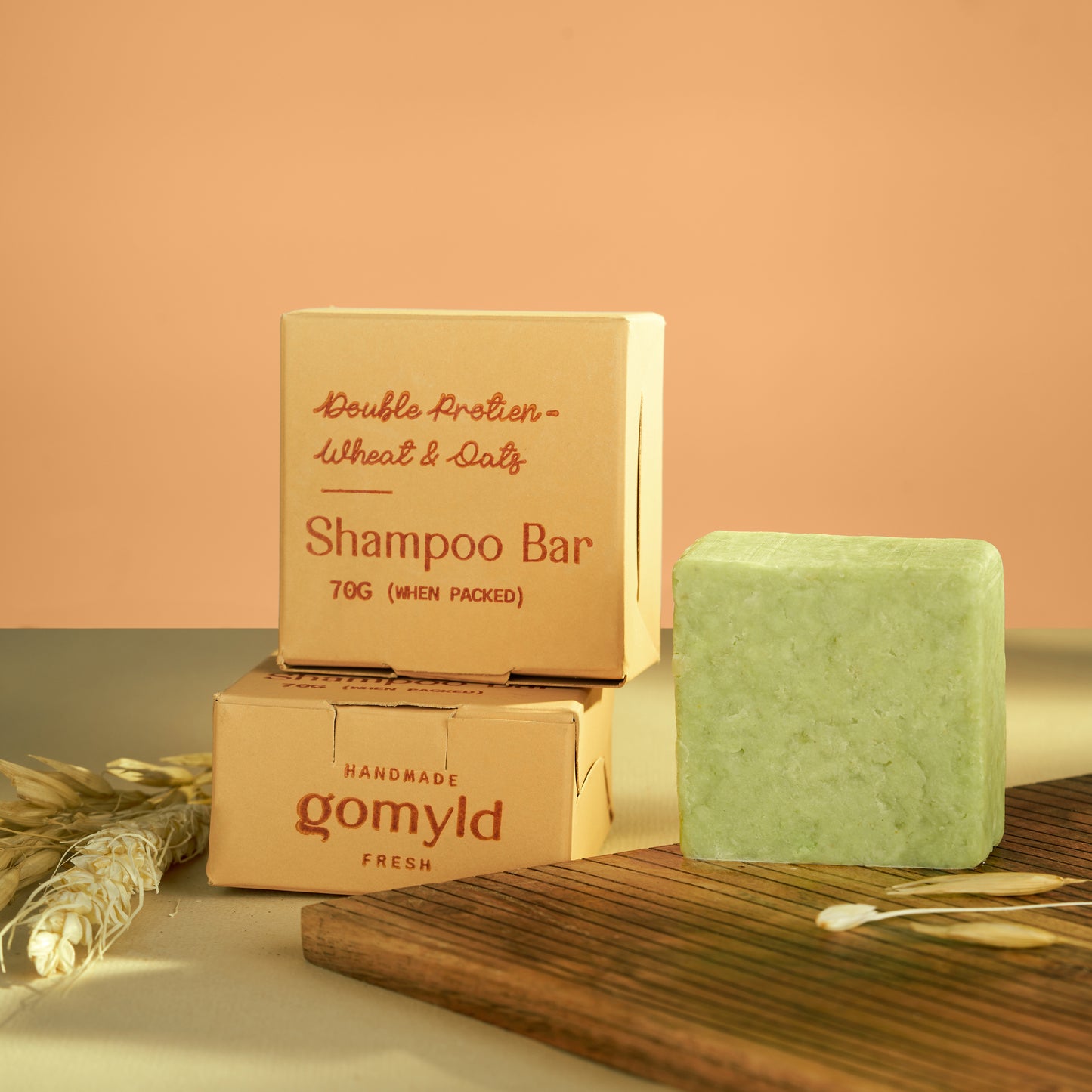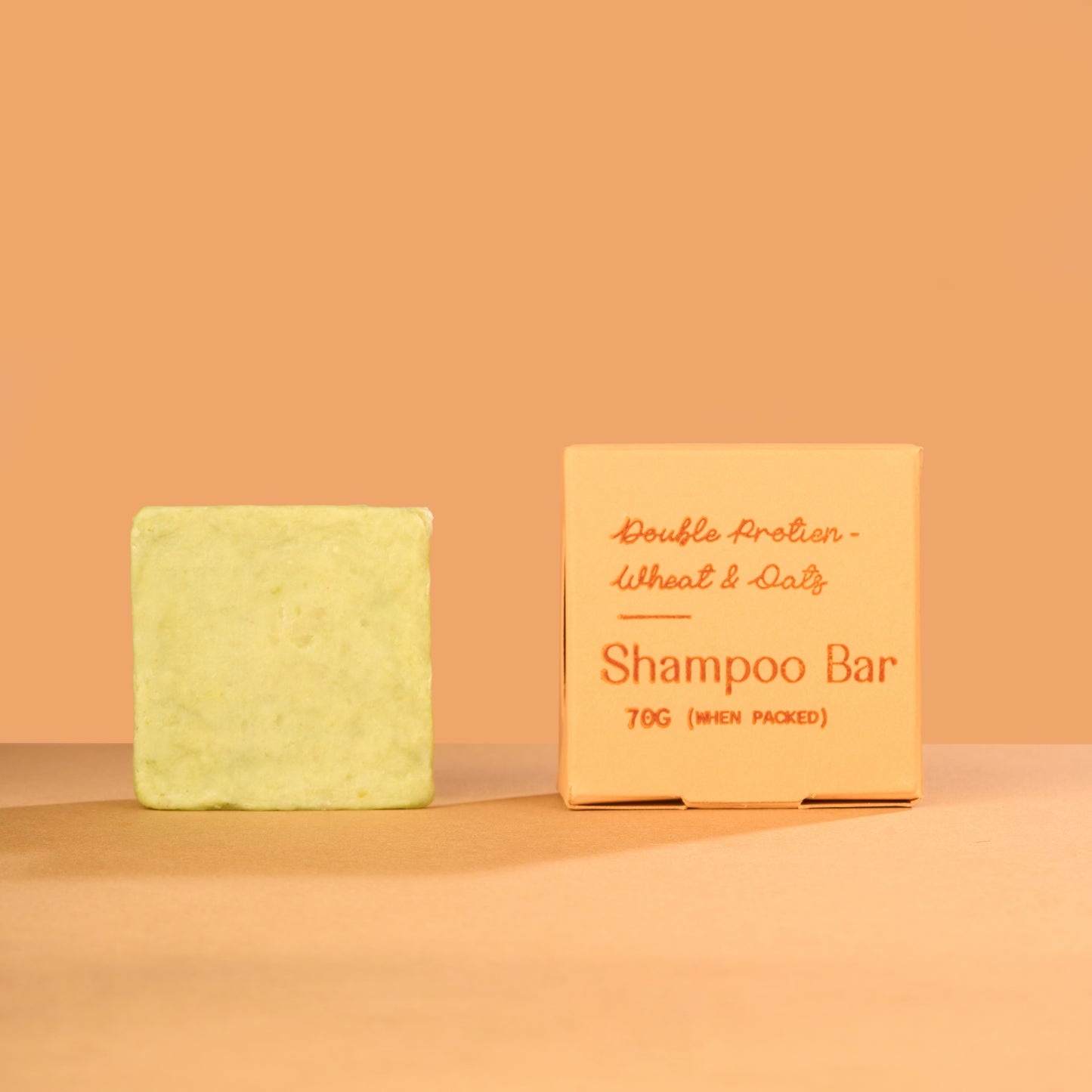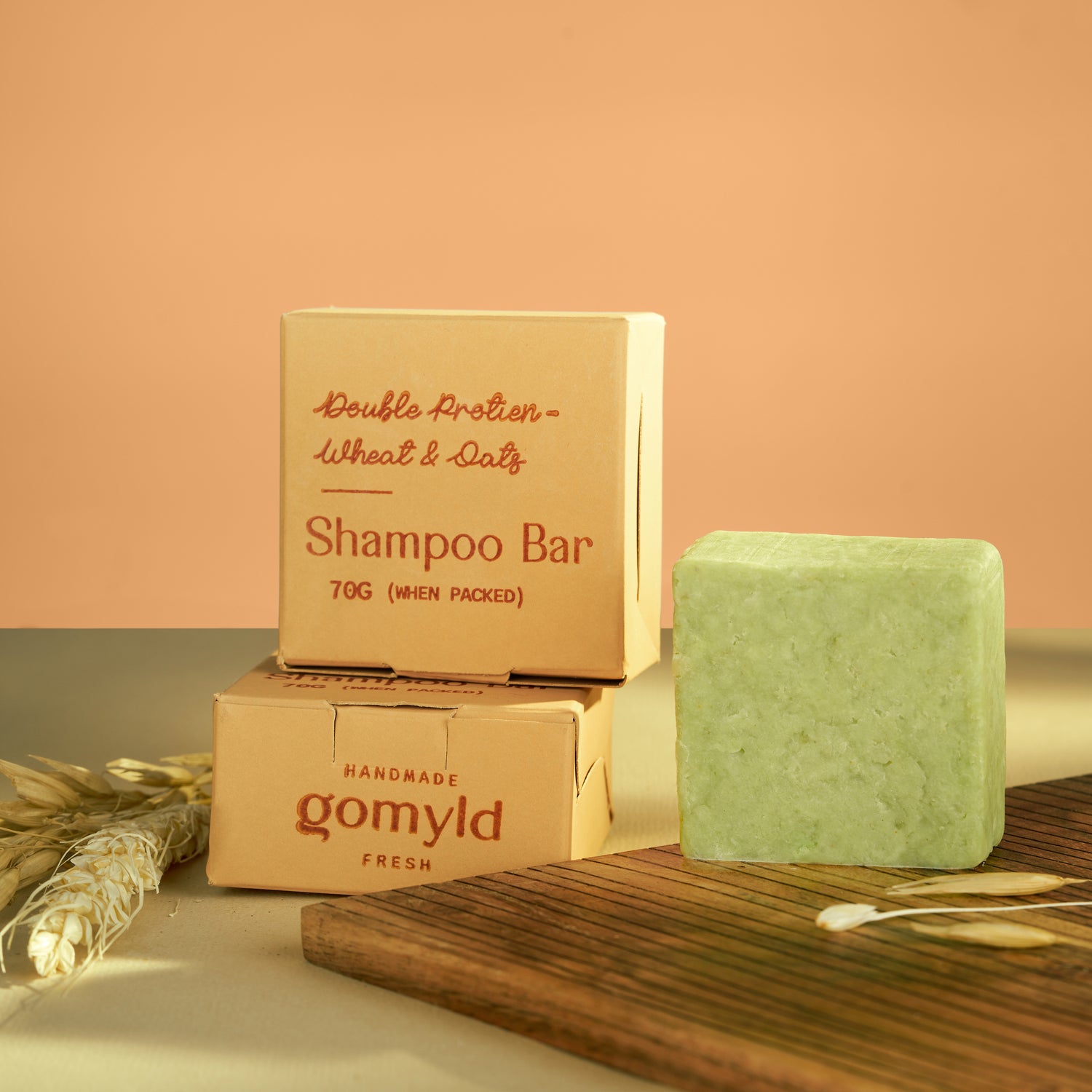 Experience Hair Transformation: Our Nourishing Wheat & Oats Shampoo Bar
Elevate your shower experience with our Double Protein - Wheat & Oats Shampoo Bar, a harmonious fusion of nature's finest. Enriched with the nurturing qualities of wheat, oats, aloe vera, and cocoa butter, it deeply moisturizes and strengthens your hair. The infusion of exotic oils like lavender, cedarwood, and rosemary not only imparts a sweet, natural fragrance but also induces mild relaxation. As it lathers up perfectly, this shampoo bar works its magic, increasing hair thickness and volume, leaving your tresses beautifully textured and revitalized. Embrace the tranquility of a spa-like experience with each wash.
Why our Shampoo Bar is Vital for your skin
Strengthens hair & boosts volume

Hydrates scalp and retains moisture

Promotes healthy scalp environment

Enhances manageability & styling
GOOD THINGS TAKE TIME, SO DOES GOOD SKIN
All our products are formulated at home and made by hand. We refrain from using chemicals that provide fast and temporary results. Our products are Myld and Effective over time.