Regular price
Sale price
Rs. 350.00
Unit price
per
Sale
Sold out
Recommended for All Skin Types
30G FACE SCRUB
This Coffee Bean & Bamboo Face Scrub gives you luxurious exfoliation with a combination of jojoba beads, brown sugar, and pink salt. Its anti-aging ingredients help remove dead skin cells, leaving you with a glowing complexion while you enjoy the comforting aroma of vanilla bean and coffee.

Ingredients

Coffee Grounds, Bambusa Arundinacea Stem Powder (Bamboo) Vanilla Extract, Hibiscus Rosa Sinensis Linn (Hibiscus) Petal Powder, Avena Sativa Colloidal Oatmeal, Aloe Barbadensis Leaf, Linum Usitatissimum Seed Powder (Flaxseed), Oryza Sativa Powder (Rice), Red Lentil Powder, Sugar, Fine Pink Salt, Jojoba Bead, Orange Plup Beads, Vitamin A Beads, Prunus Amygdalus Dulcis (Sweet Almond) Oil, Vitis Vinifera (Grape) Seed Oil, Simmondsia Chinensis (Jojoba) Seed Oil, Theobroma Cacao (Cocoa) Seed Butter, Oils: Lavender, Spearmint, Frankincense, Vanilla, Tocopheryl Acetate
Benefits

• This scrub helps reduce inflammation and gently exfoliates skin resulting in a delightfully soft texture.
• It aids in the generation of new skin cells, revealing fresh & rejuvenated skin.
• It prevents and reverses skin damage caused by free radicals.
• It slows down signs of aging like fine lines, wrinkles and age spots.
• It also helps prevent blackheads, whiteheads, and blemishes.
• It enhances skin elasticity for a stunning natural youth-boost and promotes an even, radiant skin tone.
• It is infused with the aromatic essence of lavender, spearmint, frankincense, and vanilla for a blissful experience.
How to use

• Mix the powder with a little water.
• Apply it on your face and scrub lightly.
• Leave it on for 10 minutes.
• Wash your face with normal water and pat dry.
• Moisturize with serum or cream.

Please Note: Individual experiences with skincare products vary, so patch testing on a small area of skin is essential to avoid adverse reactions. For personalized recommendations, consult a dermatologist, especially if you have specific skin concerns or conditions.
Shipping

All orders placed will be dispatched within 2-3 business days.
Orders placed after 11AM IST on Fridays, will be processed the following Monday.
Business days are Monday-Friday, excluding scheduled closures.
We do not ship orders on Saturdays or Sundays.
Please allow for a + 2 days or - 2 days variation from the delivery period mentioned in case of unforeseen circumstances
Standard shipping parcels is via Surface Mode 

 

WE HAVE A STRICT NO RETURN POLICY.

IN CASE OF ANY DAMAGE ON RECIEVING GOODS, CONTACT US ON +91 9003030583. PLEASE MAKE SURE TO TAKE PHOTO AND VIDEO PROOF OF UNPACKING. 

 
Return policy

WE HAVE A STRICT NO EXCHANGE NO REFUND POLICY.
View full details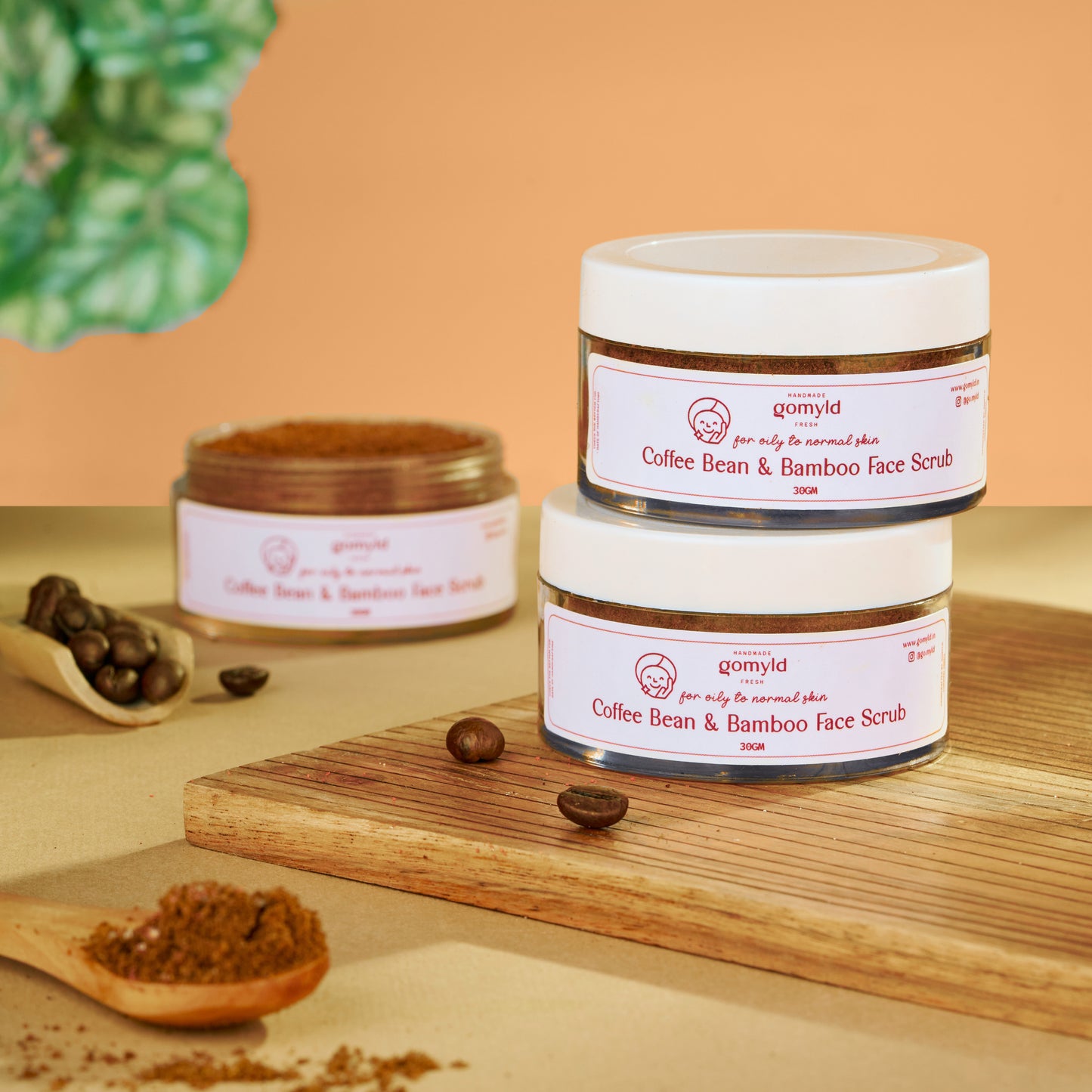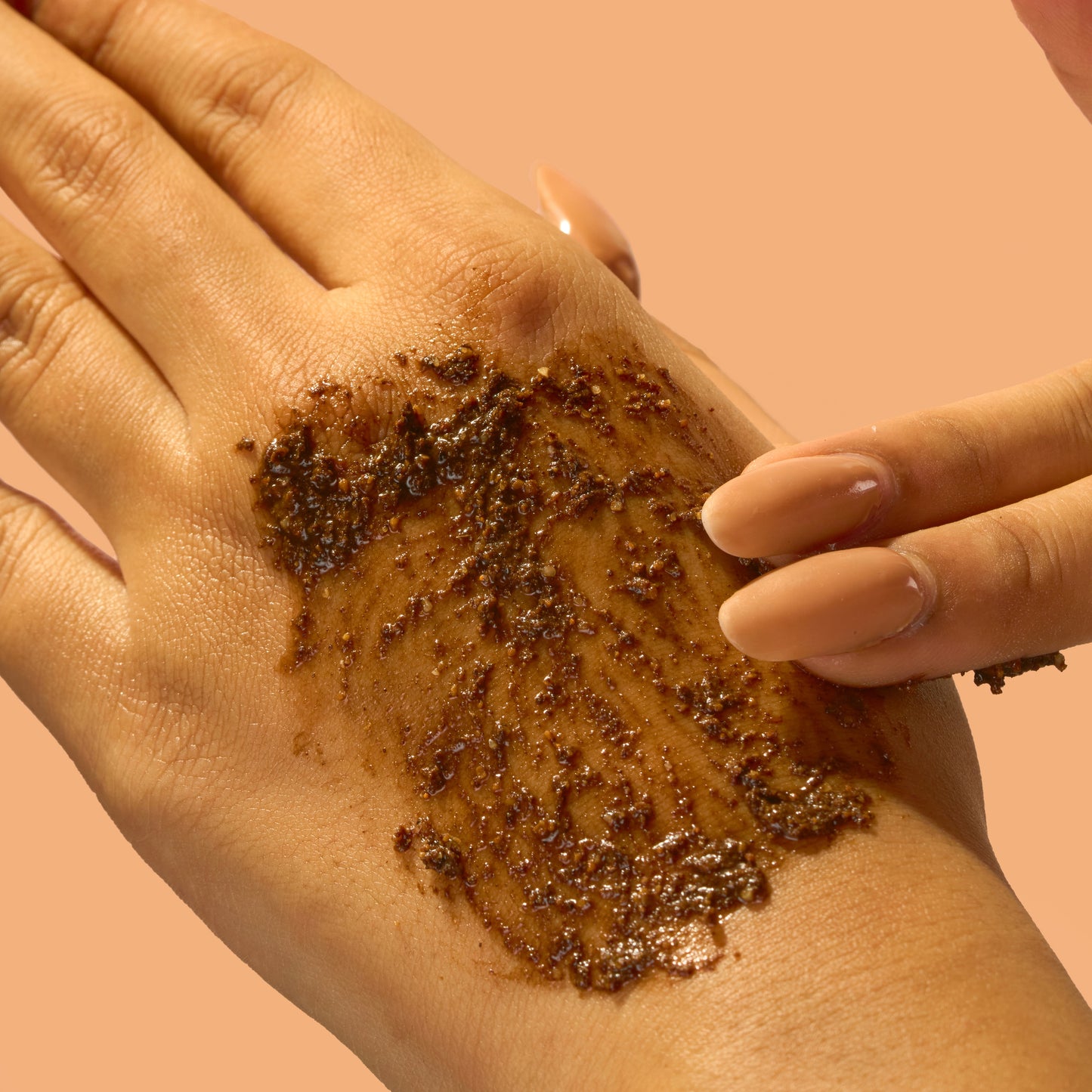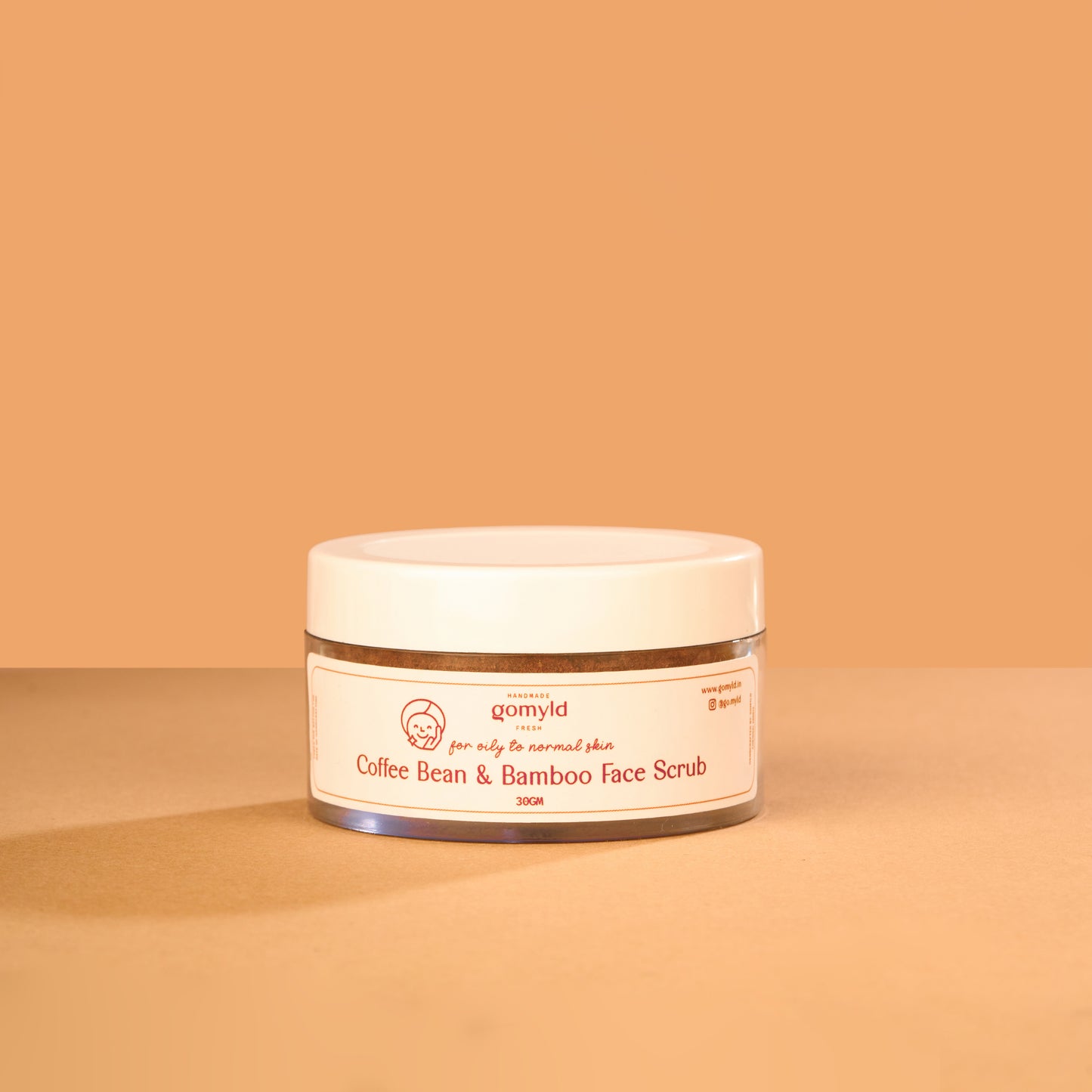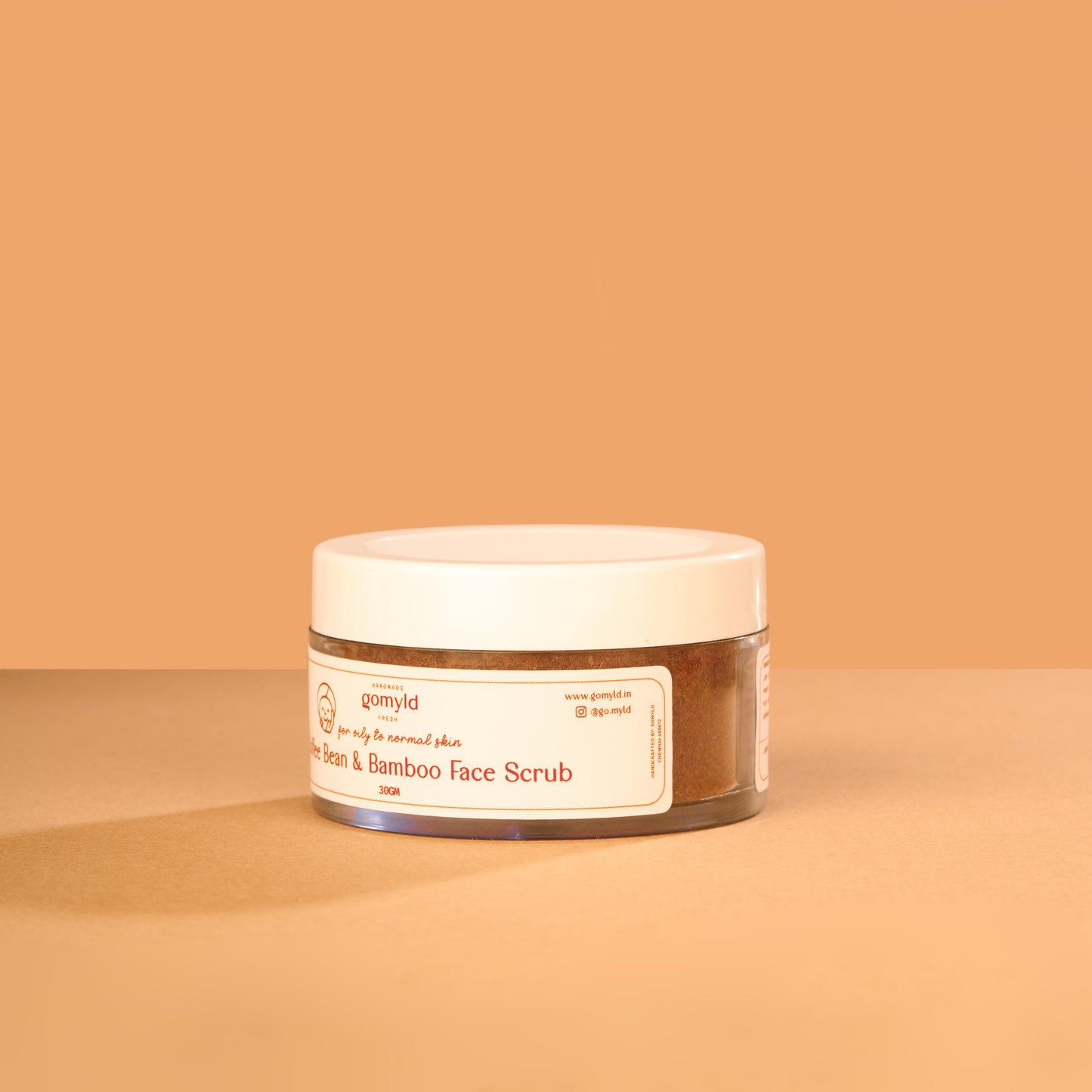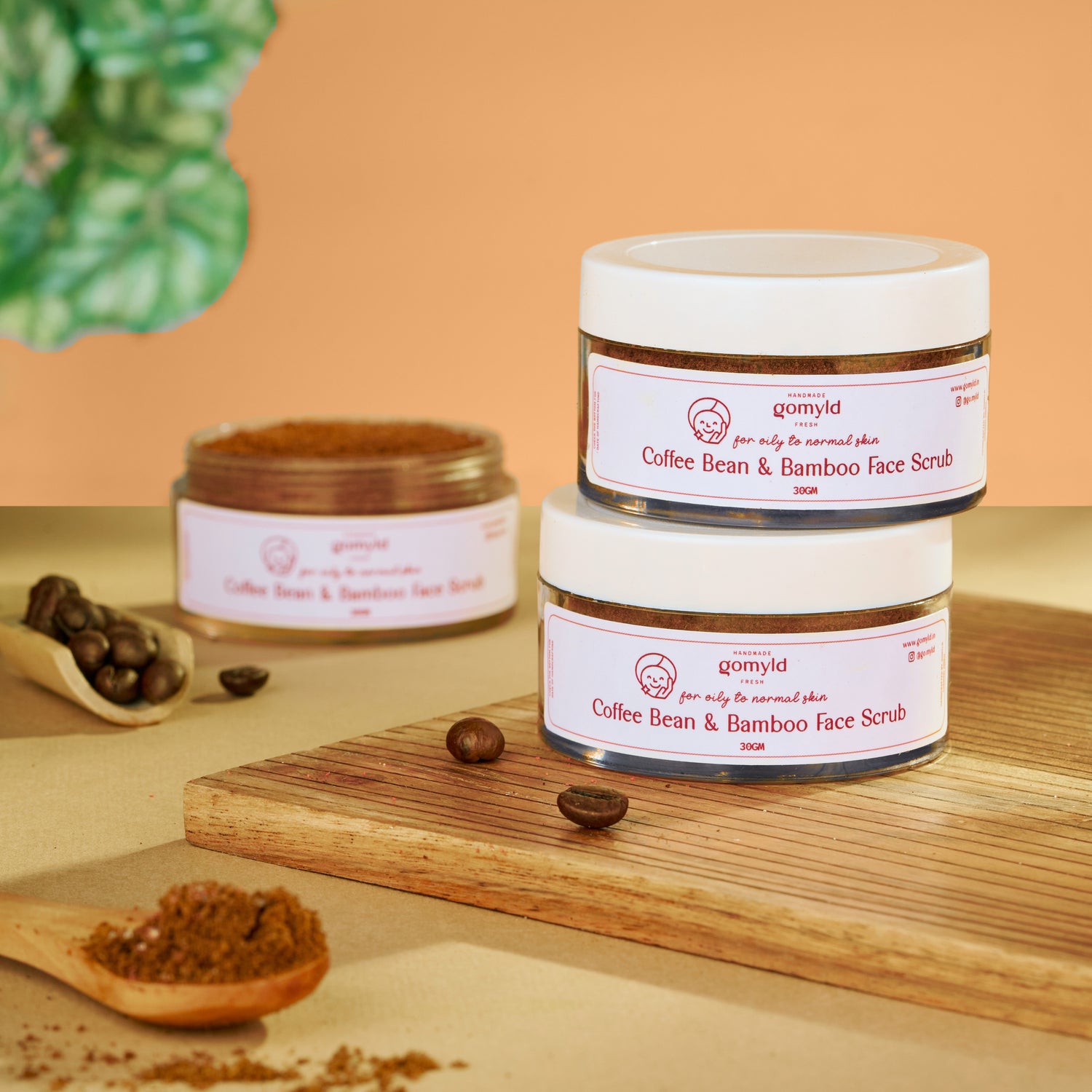 Magic of Gentle Exfoliation and Nourishing Oils
Awaken your senses and unveil a radiant complexion with our Coffee Bean & Bamboo Face Scrub, enriched with the dynamic duo of Coffee and Bamboo. This invigorating scrub is infused with gentle exfoliants like Pink Salt, Flaxseed, and Jojoba Beads, along with nourishing natural oils like Lavender, Spearmint, Frankincense, and Vanilla, that work harmoniously to leave your skin feeling refreshed, rejuvenated, and glowing.

Why our Face Scrub is vital for your skin
Deeply cleanses and exfoliates the skin

Unclogs pores and reduces blackheads

Brightens and revitalizes the skin

Reduces fine lines and wrinkles over time
GOOD THINGS TAKE TIME, SO DOES GOOD SKIN
All our products are formulated at home and made by hand. We refrain from using chemicals that provide fast and temporary results. Our products are Myld and Effective over time.