Regular price
Sale price
Rs. 170.00
Unit price
per
Sale
Sold out
Recommended for Oily, Combination & Normal Skin Type
125g Handmade Soap Bar
Revive your skin with the Aloe Vera & Tulsi Seeds Bar. Combining the cooling and healing properties of aloe vera with the scrubbing effect of tulsi seeds, this bar will help you beat the summer heat. Perfectly gentle on skin, it soothes and refreshes - leaving you feeling relaxed.
Ingredients

Aloe Vera Soap Base, Tulsi Seeds, Color, Peppermint Oil, Tocopheryl Acetate
Benefits

• This bar is gentle, soothing, and helps to reduce acne.
• It enhances the complexion and evens out skin tone.
• It's antiseptic and antimicrobial properties combat acne and minimize blackheads.
• It is enriched with abundant antioxidants that effectively shield your skin from external damage.
• This bar helps to control the skin's natural oil balance and reduces tan.
• It also helps fade scars and other blemishes.
• It is infused with the luxurious and captivating Sandalwood oil, known for its exquisite fragrance that is soft, sweet, and rich.
How to use

• Use your hands to lather your soap
• Use your fingertips to gently massage the lather over your face or other parts using circular motions
• Make sure to keep the soap / lather from entering your eyes.
• Rinse with water and pat dry

Please Note: Individual experiences with skincare products vary, so patch testing on a small area of skin is essential to avoid adverse reactions. For personalized recommendations, consult a dermatologist, especially if you have specific skin concerns or conditions.
Shipping

All orders placed will be dispatched within 2-3 business days.
Orders placed after 11AM IST on Fridays, will be processed the following Monday.
Business days are Monday-Friday, excluding scheduled closures.
We do not ship orders on Saturdays or Sundays.
Please allow for a + 2 days or - 2 days variation from the delivery period mentioned in case of unforeseen circumstances
Standard shipping parcels is via Surface Mode 

 

WE HAVE A STRICT NO RETURN POLICY.

IN CASE OF ANY DAMAGE ON RECIEVING GOODS, CONTACT US ON +91 9003030583. PLEASE MAKE SURE TO TAKE PHOTO AND VIDEO PROOF OF UNPACKING. 

 
Return policy

WE HAVE A STRICT NO EXCHANGE NO REFUND POLICY.
View full details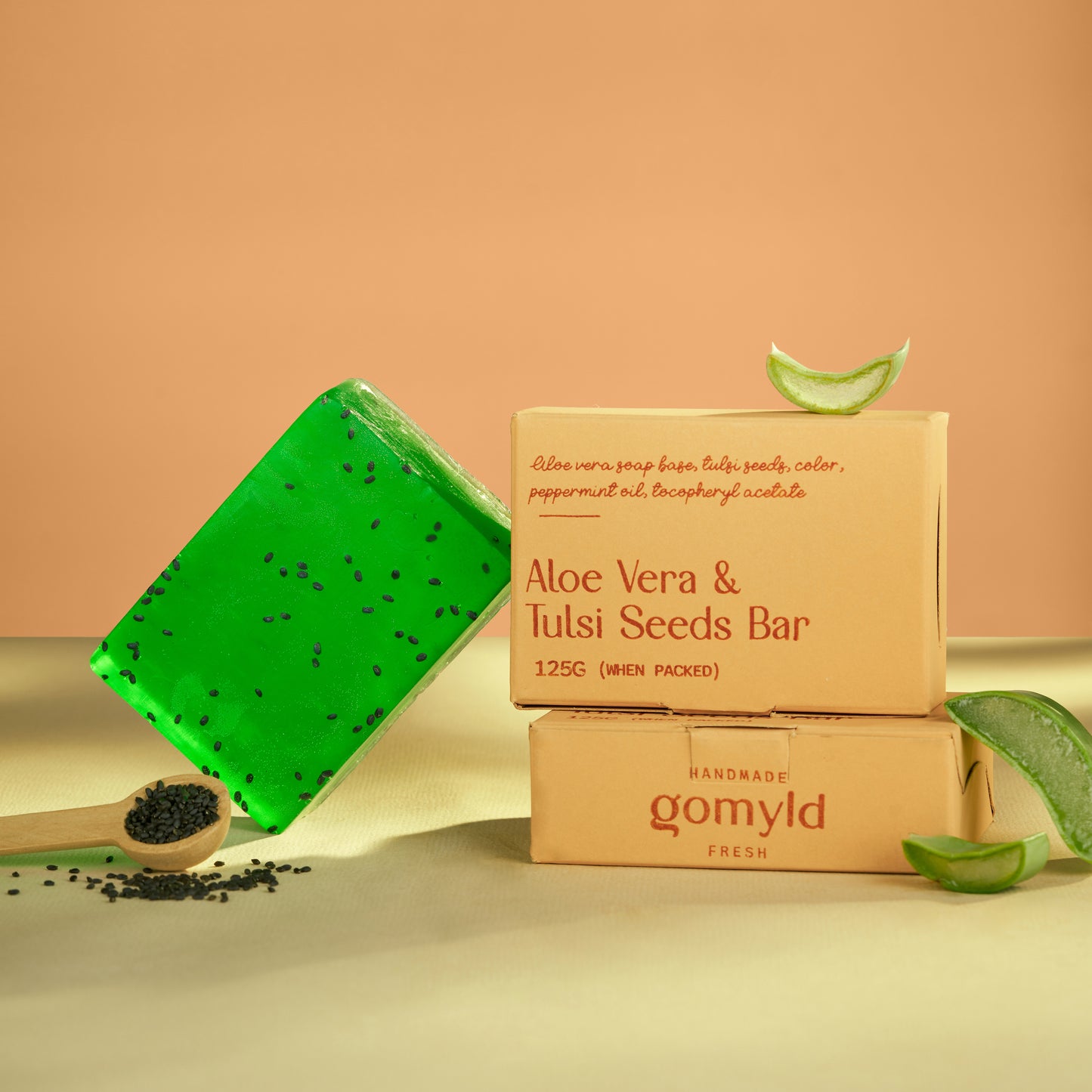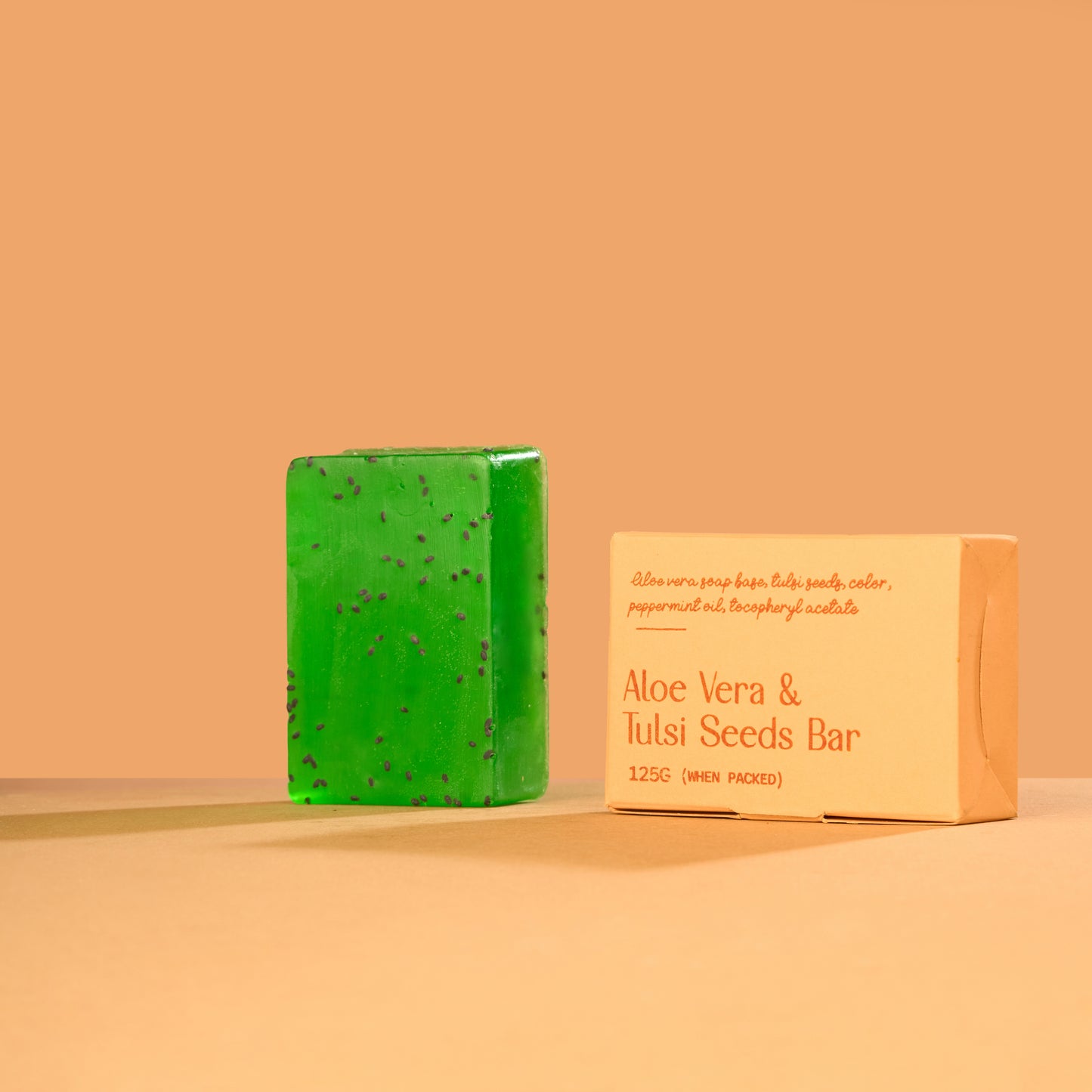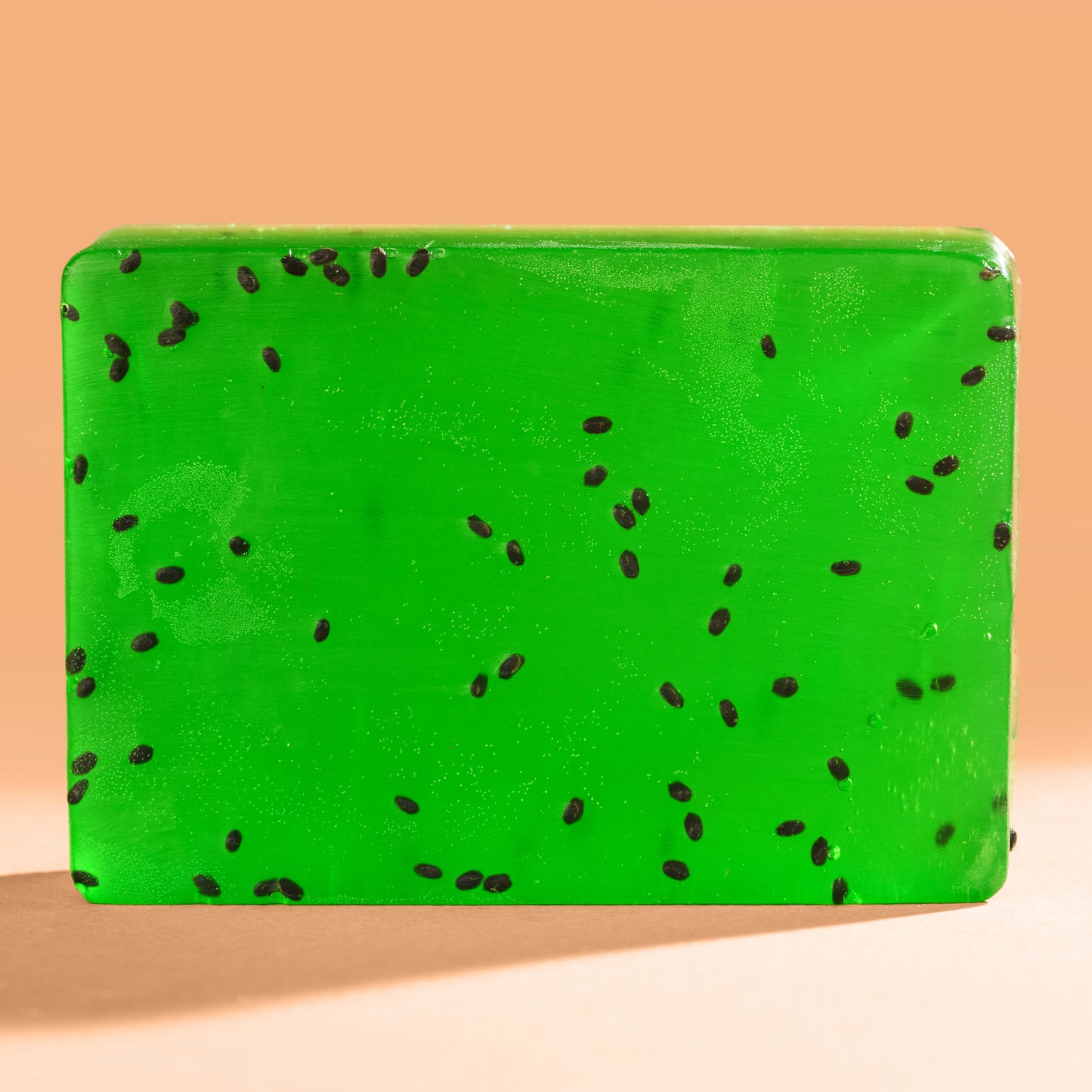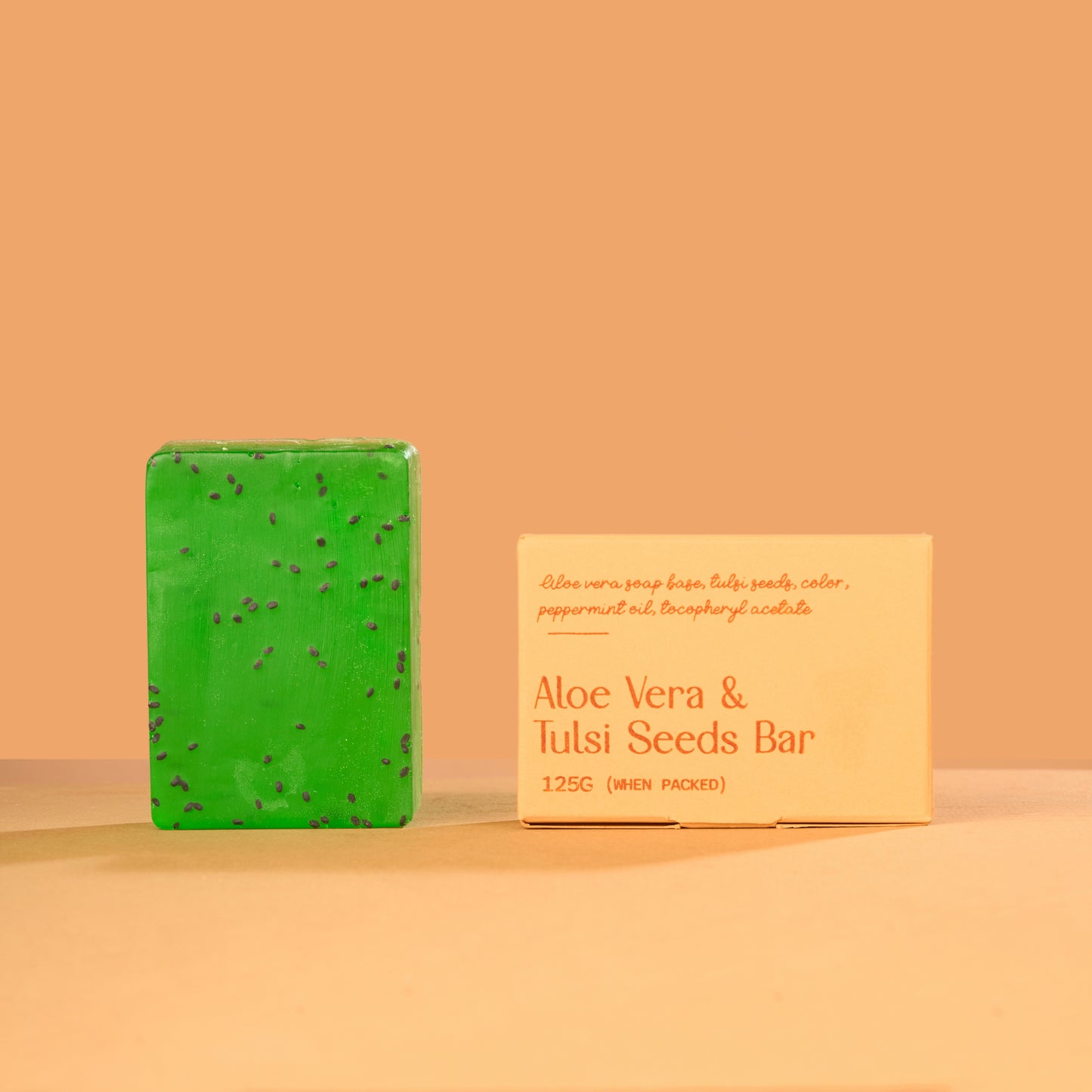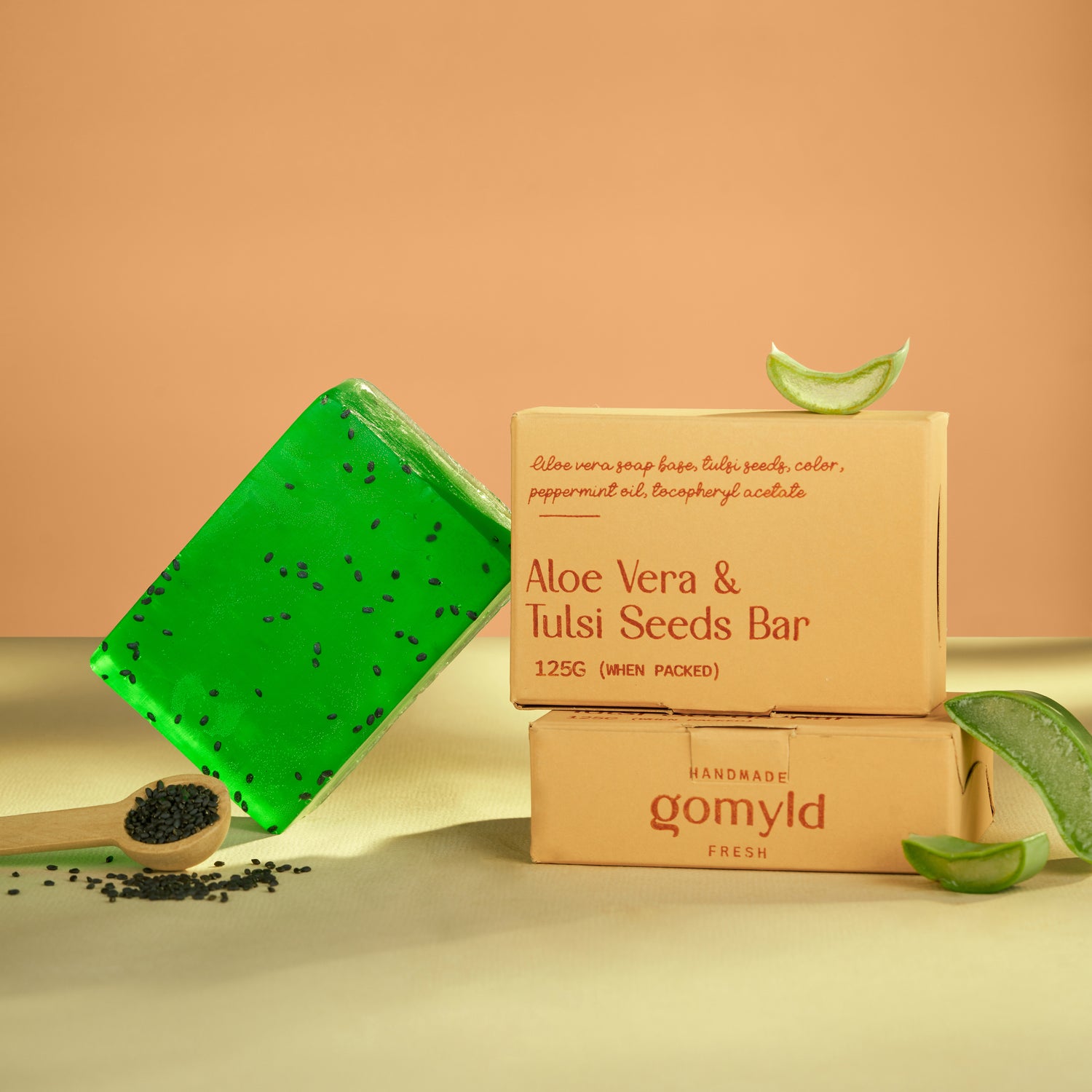 A Revitalizing Harmony
Elevate your bathing ritual with our exquisite Aloe Vera & Tulsi Seeds Bar, crafted to soothe your senses. Immerse yourself in the nourishing embrace of Aloe Vera and the gentle exfoliation of Tulsi Seeds, while the invigorating essence of Peppermint oil uplifts your spirit. Unveil a renewed and rejuvenated skin as this harmonious blend works its magic, leaving you with a blissful spa-like experience, and a complexion that feels beautifully refreshed and revitalized.
Why our Handmade Soap is vital for your skin
Deeply cleanses the skin

Boosts nutrient absorption in skin

Evens out skin texture & color

Replenishes natural hydration
GOOD THINGS TAKE TIME, SO DOES GOOD SKIN
All our products are formulated at home and made by hand. We refrain from using chemicals that provide fast and temporary results. Our products are Myld and Effective over time.